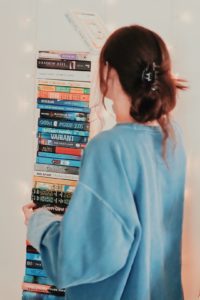 A quick post on publishers I've been meaning to do for a while now! I've had some health issues over the past few weeks that I've been dealing with, which is why my posts (which were already sporadic at best) have come to a bit of a standstill.
I have a concussion, so I'm not really supposed to be on my computer at all, but I've been itching to make a post. I've compromised with myself, and instead of working on the more brain-intensive stuff (I have quite a few reviews in the pipeline at the moment), I figured some light information gathering won't hurt. I might come back later and talk more about my health (it's been a lot), but for now, I wanted to do a post on publishers — a topic y'all know I can ramble on about. (If borrowing books and libraries are more your speed, check out my post on getting library access for everyone.)
We're going to stay away from the controversial and opinionated stuff for the time being, and instead, I'm compiling a list of the current big "mainstream" publishers and their respective imprints, because it can definitely get confusing and tiresome to hunt down the answers. Note that this list is not at all exhaustive, as I've left the independent publishers and the houses of a certain monolithic company off. Those are for other posts. This is also going to focus on U.S. houses — I'm not getting into the weeds of U.S. vs. U.K. publishing here, sorry y'all. The energy is not there.
Yet another caveat: Although Penguin Random House is attempting to buy Simon & Schuster, that deal is still in legal limbo at the moment. For now, the two are going to be listed separately.
November 2022 Update: The Penguin Random House and Simon & Schuster deal has fallen through–what a rollercoaster that has been. Although this list stands for now, there's potential for another publisher to sweep in on S&S, so definitely stay tuned. We may see big changes yet.
The Big Five
Penguin Random House
DK
Penguin Publishing Group

Avery (prev. Gotham Press and Hudson Street Press)
Berkley

Ace Books
Jove Books (prev. Pyramid Books)
New American Library

Meridian
Mentor Books
Mentor-Omega
Mentor Executive Library
Mentor-Unesco Art Books
NAL Trade
Plume
Signet Books
Signet Classics
Signet Fiction
Signet Science
Signet Key
Signette

DAW
Dutton
Family Tree Books
G.P. Putnam's Sons
Impact Books
Krause Publications
North Light Books
Penguin Books
Penguin Classics
Penguin Press
Popular Woodworking
Portfolio
Riverhead
Sentinel
TarcherPerigee
Viking
Writer's Digest

Penguin Random House Audio Publishing Group

Books on Tape
Listening Library
Living Language
Penguin Random House Audio Publishing
Random House Large Print
Random House Puzzles and Games
Random House Reference

Penguin Young Readers Group

Dial Books for Young Readers
Dutton Children's Books
Firebird
Frederick Warne
G.P. Putnam's Sons Books for Young Readers
Kathy Dawson Books
Kokila
Nancy Paulsen Books
Penguin Workshop
Philomel
Puffin Books
Razorbill
Speak
Viking Children's Books

Random House

Ballantine Books
Bantam
The Crown Publishing Group

Clarkson Potter
Convergent Books
Crown Trade
Crown Archetype
Crown Forum
Currency
Harmony Books
Image Catholic Books
Lorena Jones Books
Multnomah
Rodale books
Ten Speed Press
Tim Duggan Books
WaterBrook
Watson-Guptill

Del Rey
Delacorte Press
Dell
Loveswept
Lucas Books
Modern Library
One World
Random House
SJP
Spiegel & Grau
The Dial Press
Three Rivers Press

Random House Children's Books

Alfred A. Knopf Books for Young Readers
Anne Schwartz Books
Crown Books for Young Readers
Delacorte Press
Doubleday
Dragonfly Books
Ember
Golden Books
NOW I'M READING!
Random House Books for Young Readers
Sylvan Learning
The Princeton Review
Wendy Lamb Books
Yearling Books

The Knopf Doubleday Publishing Group

Alfred A. Knopf
Anchor Books
Doubleday
Everyman's Library
Nan A. Talese
Pantheon Books
Schocken Books
Vintage Books
Vintage Espanol
Macmillan
Publishers

Celadon Books
Farrar, Straus and Giroux
Flatiron Books
First Second
Henry Holt & Co.

Henry Holt & Co.
Metropolitan Books

Macmillan Audio
Quick and Dirty Tips
St. Martin's Publishing Group

St. Martin's Press
Minotaur Books
Thomas Dunne Books
Castle Point Books

Tor/Forge
Distributed Publishers

Childrens

Macmillan Children's Publishing Group
FSG Books for Young Readers
Feiwel & Friends
Holt Books for Young Readers
Imprint
Kingfisher
Neon Squid
Odd Dot
Priddy Books
Roaring Brook
Starscape/Tor Teen
Square Fish
Swoon Reads
Young Listeners
Simon & Schuster
Simon & Schuster Adult Publishing

Adams Media
Atria
Avid Reader Press
Emily Bestler Books
Enliven
Folger Shakespeare Library
Free Press
Gallery
Howard
Jeter Publishing
One Signal
Scout Press
Scribner
Simon & Schuster
Threshold
Tiller Press
Touchstone

Simon & Schuster Children's Publishing

Aladdin
Atheneum
Simon & Schuster Books for Young Readers
Beach Lane Books
Denene Millner Books
Little Simon
Margaret K. McElderry
Paula Wiseman Books
Saga Press
Salaam Reads
Simon Spotlight

Simon & Schuster Audio Publishing

Pimsleur
Simon & Schuster Audio
Hachette
Grand Central Publishing

Forever / Forever Yours
Legacy Lit
Twelve

Orbit Publishing
Hachette Audio
Hachette Nashville

Center Street
FaithWords
Worthy Books

Little, Brown and Company

Back Bay Books
Little, Brown Spark
Mulholland Books
Voracious

Little, Brown Books for Young Readers

Christy Ottaviano Books
JIMMY Patterson
LB Kids
Poppy

Perseus

Avalon Travel
Moon Travel
Rick Steves
Basic Books
Seal Press
Hachette Books
Hachette Go
PublicAffairs
Bold Type Books
Economist Books
Running Press
Black Dog & Leventhal
HarperCollins
General

Amistad
Anthony Bourdain Books
Avon
Broadside Books
Caedmon
Custom House
Dey Street Books
Ecco
Harper Books
Harper Business
Harper Design
Harper Luxe
Harper Perennial
Harper Voyager
Harper Wave
HarperAudio
HarperCollins 360
HarperCollins Español
HarperOne
HarperVia
William Morrow

Children's

Amistad
Balzer + Bray
Greenwillow Books
HarperAlley
HarperChildren's Audio
HarperCollins Children's Books
HarperFestival
HarperTeen
Heartdrum
Katherine Tegen Books
Quill Tree Books
Walden Pond Press

Christian Publishing

Bible Gateway
Editorial Vida
FaithGateway
Grupo Nelson
Nelson Books
Olive Tree
Thomas Nelson
Tommy Nelson
W Publishing Group
WestBow Press
Zonderkidz
Zondervan
Zondervan Academic

Harlequin

Carina Press
Graydon House Books
Hanover Square Press
Harlequin Books
HQN Books
Inkyard Press
Love Inspired
MIRA Books
Park Row Books
Other Resources
Here are some other, more comprehensive references that might be of interest to you if you'd like to dig further.
An article depicting the past twenty years or so of publisher consolidation and mergers
The chart that originally got me interested years ago in the complicated mess that is publishing
That's it for now! I plan to keep working on this every so often, and expand on information that might be helpful to other publishing nerds like me. I am far from claiming that this list is perfect (in fact, I would 100% bet that there are mistakes here), so please do comment or email me if you find any glaring mistakes or changes that need to be made.
All the best,