This post may contain affiliate links, meaning that if you buy something, I might earn a small commission from that sale at no cost to you. As always, my links support indie bookstores. Read my full disclosure here. Thank you for your support.
I've taken a couple weeks off because I was finishing my dissertation (yay, Masters degree!) but I'm back to fulfill my duty as your personal book release guide.
As always, this list is not representative of The Best books coming out, because I'm just one person and crawling through publishing catalogues is a little draining. These are just the ones that have caught my eye for whatever reason and have me intrigued/excited. It's a short list this week, so go ahead and check it out.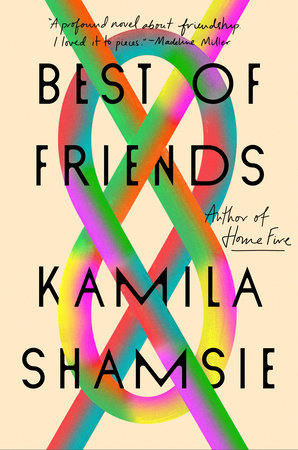 Title: Best of Friends
Author: Kamila Shamsie
Publisher: Riverhead Books
Genre: Fiction
Format: hardcover
Previous works: Home Fire
Zahra and Maryam have been best friends since childhood in Karachi, even though—or maybe because—they are unlike in nearly every way. Yet they never speak of the differences in their backgrounds or their values, not even after the fateful night when a moment of adolescent impulse upends their plans for the future.

Three decades later, Zahra and Maryam have grown into powerful women who have each cut a distinctive path through London. But when two troubling figures from their past resurface, they must finally confront their bedrock differences—and find out whether their friendship can survive.
Trendy, blend cover aside, Best of Friends is my literary pick of the week. An interweaving narrative between two female characters with a complicated (and mysterious?) past–sign me up.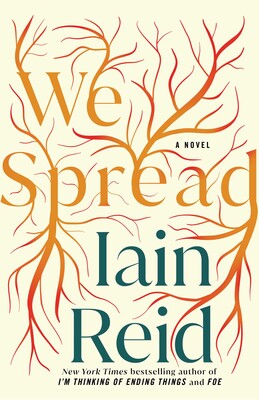 Title: We Spread
Author: Iain Reid
Publisher: Gallery/Scout Press
Genre: Literary fiction, Horror, Thriller/Suspense
Format: hardcover
Previous works: I'm Thinking of Ending Things, Foe
Penny, an artist, has lived in the same apartment for decades, surrounded by the artifacts and keepsakes of her long life. She is resigned to the mundane rituals of old age, until things start to slip. Before her longtime partner passed away years earlier, provisions were made, unbeknownst to her, for a room in a unique long-term care residence, where Penny finds herself after one too many "incidents."

Initially, surrounded by peers, conversing, eating, sleeping, looking out at the beautiful woods that surround the house, all is well. She even begins to paint again. But as the days start to blur together, Penny—with a growing sense of unrest and distrust—starts to lose her grip on the passage of time and on her place in the world. Is she succumbing to the subtly destructive effects of aging, or is she an unknowing participant in something more unsettling?
This sounds horrifying and lovely–a fabulous combo. I've heard amazing things about I'm Thinking of Ending Things, so I have no hesitancy in opening this one.
From the time we're born, a litany of do's and don'ts are placed on us by our families, our communities, and society. We're required to fit into boxes based on our race, gender, sexuality, and other parts of our identities, being told by others how we should behave, who we should date, or what we should be interested in. For so many of us, those boxes begin to feel like shackles when we realize they don't fit our unique shape, yet we keep trying because we crave acceptance and validation. But is "fitting in" worth the time, energy, and suffering? Actor, writer, and activist Brandon Kyle Goodman says, Hell no it ain't!

As a Black nonbinary, queer person in a dark-skinned 6'1", 180-pound male body born into a religious immigrant household, Brandon knows the pain of having to hide one's true self, the work of learning to love that true self, and the freedom of finally being your true self.

In You Gotta Be You, Brandon affectionately challenges you to consider, "Who would I be if society never got its hands on me?" This question set Brandon on a mission to dropkick societal shackles by unlearning all the things he was told he should be in order to step into who he really is. It required him to reexamine messy but ultimately defining moments in his life—his first time being followed in a store, navigating his mother's born-again Christianity, and regretfully using soap as lube (yes, you read that right!)—to find the lessons that would guide him to his most authentic self.
The publisher doesn't list this as a memoir, but it sure sounds like a memoir, so that's how I'm categorizing it. Look, the cover isn't amazing. (Sorry to whoever designed it–I know you are beholden to trends!) But Brandon Kyle Goodman is a joyous human and always gives good advice. A ray of sunshine! If you haven't seen his Instagram, here it is. You're welcome. Also, his Big Mouth character is one of the best. So I fully want to pick this one up–even better, I need to see if he reads the audiobook version.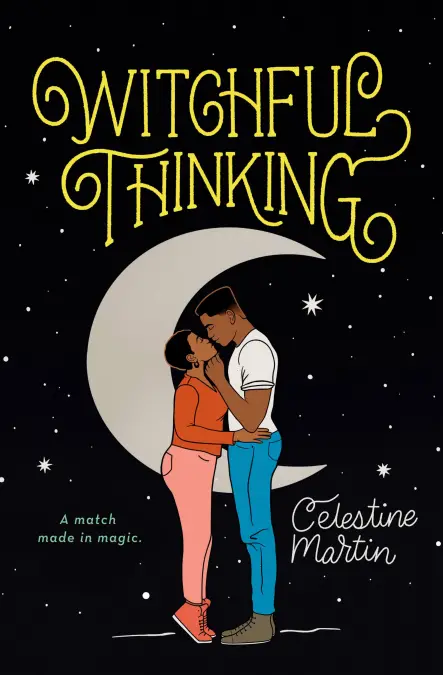 Title: Witchful Thinking
Author: Celestine Martin
Publisher: Forever/Grand Central Publishing
Genre: Romance, fiction, paranormal
Format: paperback
Debut
Lucinda Caraway loves living in Freya Grove, the mystic seaside town where charms, hexes, and magical beings of all kinds are the norm. She spends her days teaching high school history and her nights reading tea leaves and tending to her conjure garden. It's a good life . . . but she can't stop wishing for more.

Until one night, that wish turns into a spell, and suddenly Lucy can't say no. Not to a public karaoke performance. Not to running a 10K. And, most alarmingly, not to her high school crush, Alexander Dwyer, who needs her help unjinxing his new house—which just happens to be right across the street from hers.

Alex has spent the last ten years traveling the world on adventures Lucy has only ever dreamed of, and he's planning to leave again as soon as his house is safe to sell. But until Lucy can unhex herself, she and Alex are stuck together. And with so much magic in the air, maybe the next spell Lucy casts will be the one that convinces him to stay.
This one goes out to all you paperback lovers. It sounded too whimsical to not put on this list, so here we are. I love a good casual magic book!
Right, that's four books for you! Not an unmanageable amount! If there are any titles out there I missed that you're particularly thrilled about, let me know in the comments!
Happy reading,