Hi folks! So a lot has been going on, so I only have six books on my July 2018 books list. (I have started another, but haven't quite gotten through it yet so I'm not including it here.) Two books were audio, because I have been dealing with a lot of neck pain over the past few months, and reading physical books doesn't make it any better — tragic, I know. I've also been busy working on a lot of stuff for school, which is coming up all too soon, so that has kept me a little preoccupied.
However, one bright spot is that I have been trying to up my bookstagram game recently, which you can check out (and maybe follow?) here, and I have already chatted with some really lovely people! It really is such a bright corner of the internet. Anyways, here're all of my July 2018 books!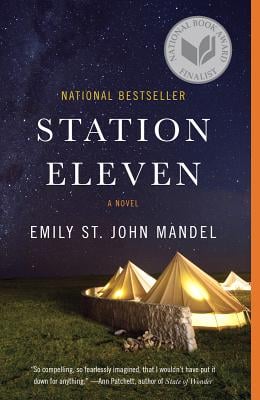 Station Eleven by Emily St. John Mandel
Okay, I know, I know, I'm way behind on this one. But y'all. So beautiful. If you don't know what it's about, Station Eleven in its simplest form chronicles the fall of society after a deadly virus breaks out.
The main character, Kristen, travels with a group of musicians who perform Shakespeare for the small communities that have cropped up around the country. Before the outbreak, however, Kristen was a child actress who performed in a play with the famous actor Arthur Leander, who suffers a heart attack on stage and dies.
The book can basically be split into two timelines: before, and after. The times before explore Arthur's circle of friends and family and their lives in the spotlight, while after follows a grown Kristen and the Traveling Symphony as they have learned to settle into this new, dangerous world on the road.
Trust me (and the millions of other people who love this book), the whole thing weaves together to create a gorgeous, nuanced look at people and art, and I definitely have not done the storyline justice.
Personally, I expected Station Eleven to be a bit more apocalyptic and action-oriented, and that threw me off a little in the beginning. If that is the kind of book you're looking for, maybe look somewhere else. But this novel is a poem, and I think you should give it a shot regardless. It's worth it.
Outlander by Diana Gabaldon
So I wouldn't exactly call this one of my "July 2018 books" as I actually started it a while back. Although I was listening to this one on audiobook, it took me forever — though it did get me through a lot of knitting, and I'm curled up with the resulting blanket as I type. However, I just can't see myself picking up the next one. I did start with the show first (blasphemous, I know), but will probably just stick with it if I want to know what happens later on.
For my personal tastes, these books were just a little too romantic, and I didn't really see the appeal of the male lead, Jamie. Outlander very much falls into typical gender roles, and while that's fine, right now I'm just looking for something a little different. I think I'm glad I did end up making it to the end, just because so many people have been talking about this one for a while now, especially with the show.
Black Hole Blues and Other Songs from Outer Space by Janna Levin
I strongly believe in the value of branching out when reading, and I think that's what has drawn me, and so many people, into literature in the first place — you can live an infinite amount of lives through books. So every once in a while I try and pick up a book that will help me to explore something I wouldn't have otherwise, and Black Hole Blues and Other Songs from Outer Space was it for this month.
Black Hole Blues is, as the title suggests, the story of scientists around the world trying to find evidence for black holes, and, spoiler alert, they have a pretty rough time of it (hence the "blues" part of the title). Although this book tended to be a little confusing at times, what with all the different names and acronyms that crop up, I found it incredibly accessible and beautifully written — perfect for a reader who wants to learn a bit more about a subject she isn't familiar with. Absolutely would recommend.
This One Summer by Mariko Tamaki and Jillian Tamaki
So while I had heard some negative things about this one, I am so so glad I made the decision to grab this one off the shelf when I visited one of my favorite bookstores. (The bookseller confirmed my choice when I went to check out and she told me how much she had loved it.) I think a lot of the complaints with this one were that it was "slow" and didn't have a big plot arc, but I believe that's the beauty of it.
This One Summer perfectly encapsulates what it feels like to be a kid who gets things are happening and changing around them but might not have a complete view of the situation. Clearly, these writers remember what it is like to be a teenager, and in between the turmoil that arises, the reader gets lovely nostalgic glimpses of a summer spent in a summer world and the complexities of family and friendship.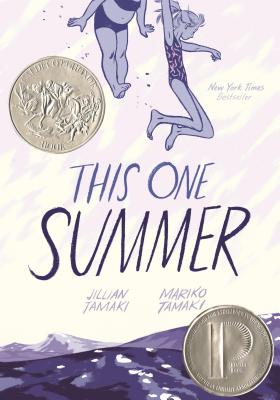 Eleanor Oliphant is Completely Fine by Gail Honeyman
You can find my full review of Eleanor Oliphant is Completely Fine here.
A Study in Charlotte by Brittany Cavallaro
You can find my full review of A Study in Charlotte here.
July 2018 books Summary
Even if I didn't quite hit my goals, I think all-in-all I had a pretty good July reading month!
See y'all soon,