This post may contain affiliate links, meaning that if you buy something, I might earn a small commission from that sale at no cost to you. As always, my links support indie bookstores. Read my full disclosure here. Thank you for your support.
Since last week was a heavy list, laws dictate that this week is slower. I have literally one book on my radar for this week, and I thought I might try fleshing it out more, but I try to only pick books that I'm genuinely excited about, and I don't want to alter that. So, one book.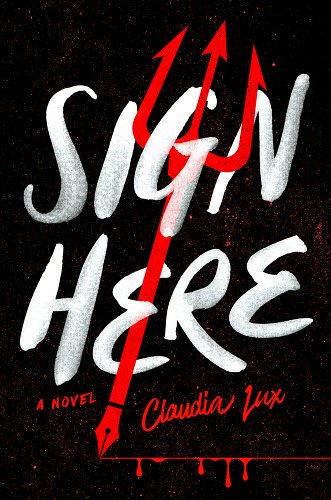 Title: Sign Here
Author: Claudia Lux
Publisher: Berkley
Genre: Paranormal fiction, suspense & thriller, gothic & horror
Format: hardcover
Debut
Peyote Trip has a pretty good gig in the deals department on the fifth floor of Hell. Sure, none of the pens work, the coffee machine has been out of order for a century, and the only drink on offer is Jägermeister, but Pey has a plan—and all he needs is one last member of the Harrison family to sell their soul.

When the Harrisons retreat to the family lake house for the summer, with their daughter Mickey's precocious new friend, Ruth, in tow, the opportunity Pey has waited a millennium for might finally be in his grasp. And with the help of his charismatic coworker Calamity, he sets a plan in motion.

But things aren't always as they seem, on Earth or in Hell. And as old secrets and new dangers scrape away at the Harrisons' shiny surface, revealing the darkness beneath, everyone must face the consequences of their choices.
First off, that's a rockin' cover image, so kudos to whoever designed it. Also, talk about a perfect Halloween read. I'm reminded a bit of The Good Place meets Black Buck? Beyond the satirical factor, I'm also intrigued by the way the blurb hints at family drama. I think this read has potential beyond being humorous, which is exactly why I loved Black Buck so much. Fingers crossed!
Promise, there are a lot more titles on next week's list. If you want to be updated when that's out, hit that follow button.