This post may contain affiliate links, meaning that if you buy something, I might earn a small commission from that sale at no cost to you. As always, my links support indie bookstores. Read my full disclosure here. Thank you for your support.
I've done a few of these end-of-the-year recap posts now, and each time I've done something slightly different. For 2022, I'm sticking to the original format and doing the #ReadingSuperlativeChallenge. (Which I believe originated with @absorbedinpages on Instagram.) I don't even know if this has stayed popular the past few years, but I think it's the best way to sum up a year of vastly different and brilliant reads. Yes, it does ask for a top favorite book, but like so many readers, I can't choose just one, so this is my way of compromising without writing a miles-long post. Without further ado, these are the best books of 2022.
a book that you loved this year by a person of color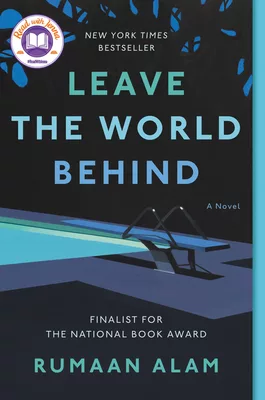 Amanda and Clay head out to a remote corner of Long Island expecting a vacation: a quiet reprieve from life in New York City, quality time with their teenage son and daughter, and a taste of the good life in the luxurious home they've rented for the week. But a late-night knock on the door breaks the spell.

Ruth and G. H. are an older couple–it's their house, and they've arrived in a panic. They bring the news that a sudden blackout has swept the city. But in this rural area–with the TV and internet now down, and no cell phone service–it's hard to know what to believe.

Should Amanda and Clay trust this couple–and vice versa? What happened back in New York? Is the vacation home, isolated from civilization, a truly safe place for their families? And are they safe from one other?
There were so many books that fit the bill for this one, but Rumaan Alam's Leave the World Behind probably takes the top spot. It blew me away and was one of my early favourites of the year. Apparently, Rumaan Alam also does a podcast, so I've got to check that out. If you want to read the rest of my thoughts, you can find my full review on Leave the World Behind here.

a favorite debut novel you read this year
Louisa is the new scholarship student at Temple House, a drafty, imposing cliffside boarding school full of girls as chilly as the mansion itself. There is one other outsider, an intense and compelling student provocateur named Victoria, and the two girls form a fierce bond. But their friendship is soon unsettled by a young art teacher, Mr. Lavelle, whose charismatic presence ignites tension and obsession in the cloistered world of the school.

Then one day, Louisa and Mr. Lavelle vanish without a trace, never to be found. Now, on the twenty-fifth anniversary of the disappearance, one journalist–a woman who grew up on the same street as Louisa–delves into the past, determined to uncover the truth. She finds stories of jealousy and revenge, power and class. But might she find Louisa and Mr. Lavelle, too?
Apparently The Temple House Vanishing did much better in Ireland than it seemed to in the US, which is curious to me because it reminded me so much of The Secret History and that dark academia vibe everyone has been obsessed with recently. I read this one back in January and have been haunted by it ever since.

a book that disappointed you this year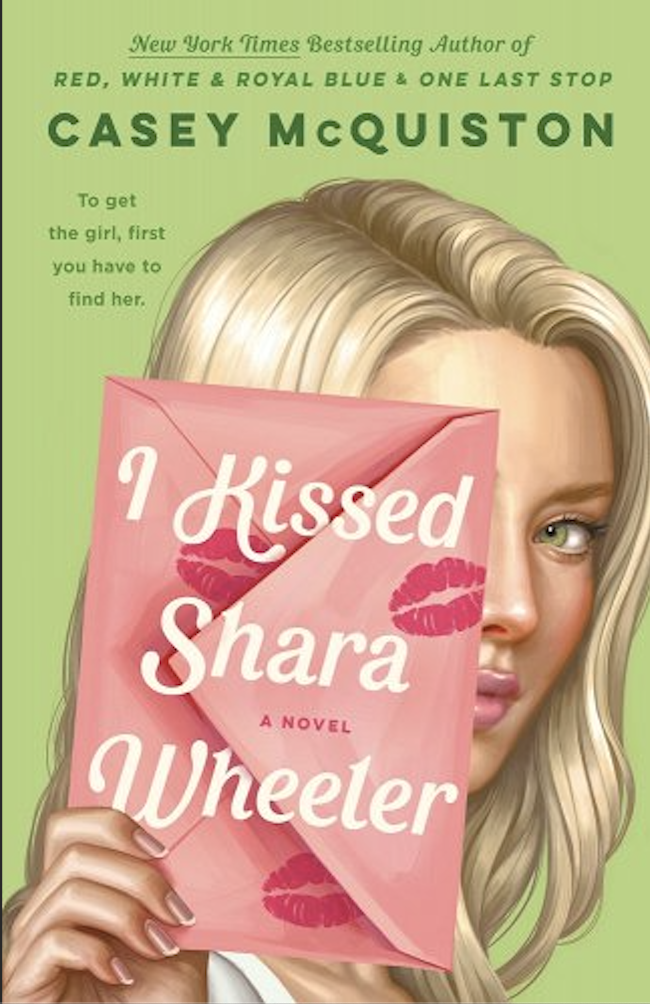 Chloe Green is so close to winning. After her moms moved her from SoCal to Alabama for high school, she's spent the past four years dodging gossipy classmates and the puritanical administration of Willowgrove Christian Academy. The thing that's kept her going: winning valedictorian. Her only rival: prom queen Shara Wheeler, the principal's perfect progeny. But a month before graduation, Shara kisses Chloe and vanishes.

On a furious hunt for answers, Chloe discovers she's not the only one Shara kissed. There's also Smith, Shara's longtime quarterback sweetheart, and Rory, Shara's bad boy neighbor with a crush. The three have nothing in common except Shara and the annoyingly cryptic notes she left behind, but together they must untangle Shara's trail of clues and find her. It'll be worth it, if Chloe can drag Shara back before graduation to beat her fair and square.

Thrown into an unlikely alliance, chasing a ghost through parties, break-ins, puzzles, and secrets revealed on monogrammed stationery, Chloe starts to suspect there might be more to this small town than she thought. And maybe–probably not, but maybe–more to Shara, too.
There were a fair few of these, to be honest, but I've been pretty good about dropping books that don't interest me and moving onto the next. I Kissed Shara Wheeler, however, was one I did force myself through just because I really, really wanted to like it. I enjoyed McQuiston's other book, One Last Stop, so I had faith, but it just ended up not being for me. I think, in reflection, it wasn't the story I expected. It was just a bit more juvenile than I expected, and while I can absolutely love a younger high school story (like The Extraordinaries), it didn't seem to have the self-awareness that makes them enjoyable for me.

a book that made you cry (or lol)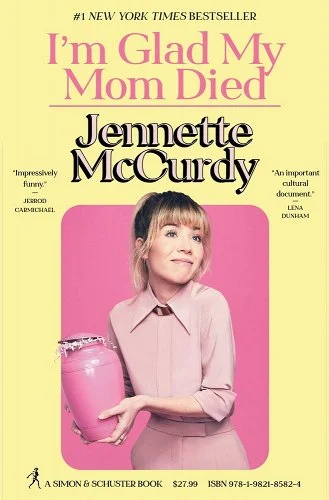 Jennette McCurdy was six years old when she had her first acting audition. Her mother's dream was for her only daughter to become a star, and Jennette would do anything to make her mother happy. So she went along with what Mom called "calorie restriction," eating little and weighing herself five times a day. She endured extensive at-home makeovers while Mom chided, "Your eyelashes are invisible, okay? You think Dakota Fanning doesn't tint hers?" She was even showered by Mom until age sixteen while sharing her diaries, email, and all her income.

In I'm Glad My Mom Died, Jennette recounts all this in unflinching detail–just as she chronicles what happens when the dream finally comes true. Cast in a new Nickelodeon series called iCarly, she is thrust into fame. Though Mom is ecstatic, emailing fan club moderators and getting on a first-name basis with the paparazzi ("Hi Gale!"), Jennette is riddled with anxiety, shame, and self-loathing, which manifest into eating disorders, addiction, and a series of unhealthy relationships.

These issues only get worse when, soon after taking the lead in the iCarly spinoff Sam & Cat alongside Ariana Grande, her mother dies of cancer. Finally, after discovering therapy and quitting acting, Jennette embarks on recovery and decides for the first time in her life what she really wants.
Everyone seems to love Jennette McCurdy's memoir, and rightly so. She's a talent, and I really hope to see her write more in the future. It's a book that I think everyone would be interested in, regardless of if you watched iCarly growing up or not (I didn't). According to libro.fm, this was also one of their bestselling audiobooks for the year, and considering McCurdy reads it herself, I would say that's the format you should go with.

your favorite 2022 read
On a bitter-cold day, in the December of his junior year at Harvard, Sam Masur exits a subway car and sees, amid the hordes of people waiting on the platform, Sadie Green. He calls her name. For a moment, she pretends she hasn't heard him, but then, she turns, and a game begins: a legendary collaboration that will launch them to stardom.

These friends, intimates since childhood, borrow money, beg favors, and, before even graduating college, they have created their first blockbuster, Ichigo. Overnight, the world is theirs. Not even twenty-five years old, Sam and Sadie are brilliant, successful, and rich, but these qualities won't protect them from their own creative ambitions or the betrayals of their hearts.
I cannot praise this book enough. In fact, I'm just going to direct you to my full-length review on Tomorrow, and Tomorrow, and Tomorrow because if I get started, I might not stop.

an underrated book you loved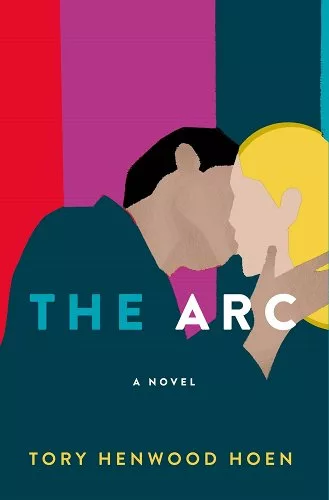 Thirty-five-year-old Ursula Byrne, VP of Strategic Audacity at a branding agency in Manhattan, is successful, witty, whip-smart, and single. She's tried all the dating apps, and let's just say: she's underwhelmed by her options. You'd think that by now someone would have come up with something more bespoke; a way for users to be more tailored about who and what they want in a life partner–how hard could that be?

Enter The Arc: a highly secretive, super-sophisticated matchmaking service that uses a complex series of emotional, psychological and physiological assessments to architect partnerships that will go the distance. The price tag is high, the promise ambitious–a level of lifelong compatibility that would otherwise be unattainable. In other words, The Arc will find your ideal mate.

Ursula is paired with forty-two-year-old lawyer Rafael Banks. From moment one, this feels like the electric, lasting love they've each been seeking their whole adult lives. But as their relationship unfolds in unanticipated ways, the two begin to realize that true love is never a sure thing. And the arc of a relationship is never predictable…even when it's fully optimized.
I think The Arc also qualifies for "favorite debut", but somehow this is a book that seemed to slip by everyone's radar. As someone who loves speculative fiction and appreciates a smart romance, this one really ticked some boxes for me. Let me tell you more in my full review.

your 2022 favorite book cover
I'm sorry, but obviously this one wins.

a book that taught you something
Another repeat, but so often I find that my favorite books are the ones that teach me something.
Here's to another year of wonderful reads.
Love,
Disclosure: All of these books were gifted to me by their respective publishers and libro.fm. However, all opinions are my own and have not been influenced in any way.