This post may contain affiliate links, meaning that if you buy something, I might earn a small commission from that sale at no cost to you. As always, my links support indie bookstores. Read my full disclosure here. Thank you for your support.
Well, y'all, we're officially nearing the end of 2022, so I guess it is time for the Best of the Year posts to start rolling in. (Except for you monsters who started posting in late summer to please the Google gods. I see you. I know you.) I've already seen fellow bloggers dropping their top ten of the year posts in my inbox (prompting me to look at my calendar in horror) which I'm not going to be late this time and wait until January (oops), so let's get things going!
Technically, this is a list of the bestselling audiobooks, hence my "analysis." Do people actually have good taste? Let's find out.
I listen to the majority of my books on audio now, because as I've gotten older I've learned that joyless things like laundry can be made slightly less joyless with the addition of audiobooks. So I've listened to quite a few of the books on this list, and am mostly not surprised by the titles. Mostly.
This list is curtesy of libro.fm, my favorite bookish company out there. Infinitely better than Audible, which is yuck. No, they aren't paying me to say this (though I wish they would).*
In 2030, a grieving archeologist arrives in the Arctic Circle to continue the work of his recently deceased daughter at the Batagaika Crater, where researchers are studying long-buried secrets now revealed in melting permafrost, including the perfectly preserved remains of a girl who appears to have died of an ancient virus.

Once unleashed, the Arctic plague will reshape life on Earth for generations to come, quickly traversing the globe, forcing humanity to devise a myriad of moving and inventive ways to embrace possibility in the face of tragedy.

In a theme park designed for terminally ill children, a cynical employee falls in love with a mother desperate to hold on to her infected son. A heartbroken scientist searching for a cure finds a second chance at fatherhood when one of his test subjects–a pig–develops the capacity for human speech. A widowed painter and her teenaged granddaughter embark on a cosmic quest to locate a new home planet. 

From funerary skyscrapers to hotels for the dead to interstellar starships, Sequoia Nagamatsu takes readers on a wildly original and compassionate journey, spanning continents, centuries, and even celestial bodies to tell a story about the resilience of the human spirit, our infinite capacity to dream, and the connective threads that tie us all together in the universe.
I've heard of this book, but it has largely passed me by. I'm typically not a big cast-spanning-hundreds-of-years kinda gal, and I'm not as jazzed by the comparison to Station Eleven as others might be, but How High We Go in the Dark has more than one aspect that intrigues me. I might have to give this one a shot.
Most people think of themselves as "good," but it's not always easy to determine what's "good" or "bad"–especially in a world filled with complicated choices and pitfalls and booby traps and bad advice. Fortunately, many smart philosophers have been pondering this conundrum for millennia and they have guidance for us.

With bright wit and deep insight, How to Be Perfect explains concepts like deontology, utilitarianism, existentialism, ubuntu, and more so we can sound cool at parties and become better people. 

Schur starts off with easy ethical questions like "Should I punch my friend in the face for no reason?" (No.) and works his way up to the most complex moral issues we all face. Such as: Can I still enjoy great art if it was created by terrible people? How much money should I give to charity? Why bother being good at all when there are no consequences for being bad? And much more.

By the time the book is done, we'll know exactly how to act in every conceivable situation, so as to produce a verifiably maximal amount of moral good. We will be perfect, and all our friends will be jealous. OK, not quite. Instead, we'll gain fresh, funny, inspiring wisdom on the toughest issues we face every day.
This is one of those trendy self-help books that seems to actually be worth the hype. It's been staring at me from my libro.fm maybe pile for forever now, so maybe it's time I actually press play. Michael Schur is one of the creators of The Good Place, and most of the cast have a role in voicing the book, so I'm doubly intrigued by that. (It's an excellent show.) And I do love reading books by creatives rather than self-help type gurus — I'm still obsessed with The Multi-Hyphen Life by Emma Gannon.
Molly Gray is not like everyone else. She struggles with social skills and misreads the intentions of others. Her gran used to interpret the world for her, codifying it into simple rules that Molly could live by. Since Gran died a few months ago, twenty-five-year-old Molly has been navigating life's complexities all by herself.

No matter–she throws herself with gusto into her work as a hotel maid. Her unique character, along with her obsessive love of cleaning and proper etiquette, make her an ideal fit for the job. She delights in donning her crisp uniform each morning, stocking her cart with miniature soaps and bottles, and returning guest rooms at the Regency Grand Hotel to a state of perfection. 

But Molly's orderly life is upended the day she enters the suite of the infamous and wealthy Charles Black, only to find it in a state of disarray and Mr. Black himself dead in his bed. Before she knows what's happening, Molly's unusual demeanor has the police targeting her as their lead suspect.

She quickly finds herself caught in a web of deception, one she has no idea how to untangle. Fortunately for Molly, friends she never knew she had unite with her in a search for clues to what really happened to Mr. Black–but will they be able to find the real killer before it's too late?
This is the only book on this list that I was completely unfamiliar with. I thought I could conjure an image of the cover, but it turns out I was just thinking of The Maidens by Alex Michaelides.
Her city is under siege. The zombies are coming back. And all Nona wants is a birthday party. In many ways, Nona is like other people. She lives with her family, has a job at her local school, and loves walks on the beach and meeting new dogs. But Nona's not like other people. Six months ago she woke up in a stranger's body, and she's afraid she might have to give it back. 

The whole city is falling to pieces. A monstrous blue sphere hangs on the horizon, ready to tear the planet apart. Blood of Eden forces have surrounded the last Cohort facility and wait for the Emperor Undying to come calling. Their leaders want Nona to be the weapon that will save them from the Nine Houses. Nona would prefer to live an ordinary life with the people she loves, with Pyrrha and Camilla and Palamedes, but she also knows that nothing lasts forever. And each night, Nona dreams of a woman with a skull-painted face…
A sequel made it on the list, which is a little surprising. Although, given that this is a list of audiobooks, I would expect it to be skewed towards longer books since those are the ones people tend to buy on audio rather than print (and I full-heartedly support that). Back in the days when my audiobook credits were hard to come by, I used them for books like Outlander and Game of Thrones, so no shade. Unfortunately, I couldn't really get into the first book, so I don't think I'll be picking up Nona the Ninth anytime soon.*
*OOPS. I wrote this and then went back and realized I had started Harrow the Ninth, which is, in fact, the second book. No wonder I didn't understand what was happening. Oof. I guess I need to rescind my original DNF label and try this series again.
On a bitter-cold day, in the December of his junior year at Harvard, Sam Masur exits a subway car and sees, amid the hordes of people waiting on the platform, Sadie Green. He calls her name. For a moment, she pretends she hasn't heard him, but then, she turns, and a game begins: a legendary collaboration that will launch them to stardom.

These friends, intimates since childhood, borrow money, beg favors, and, before even graduating college, they have created their first blockbuster, Ichigo. Overnight, the world is theirs.

Not even twenty-five years old, Sam and Sadie are brilliant, successful, and rich, but these qualities won't protect them from their own creative ambitions or the betrayals of their hearts. 

Spanning thirty years, from Cambridge, Massachusetts, to Venice Beach, California, and lands in between and far beyond, Gabrielle Zevin's Tomorrow, and Tomorrow, and Tomorrow is a dazzling and intricately imagined novel that examines the multifarious nature of identity, disability, failure, the redemptive possibilities in play, and above all, our need to connect: to be loved and to love. Yes, it is a love story, but it is not one you have read before.
Honestly insulted this wasn't number one. I'll be doing a full 2022 wrap-up post soon, but spoiler alert — this was my favorite book of the year. You can read my full review on Gabrielle Zevin's Tomorrow and Tomorrow and Tomorrow here.
For Sewanee Chester, being an audiobook narrator is a long way from her old dreams, but the days of being a star on film sets are long behind her. She's found success and satisfaction from the inside of a sound booth and it allows her to care for her beloved, ailing grandmother. When she arrives in Las Vegas last-minute for a book convention, Sewanee unexpectedly spends a whirlwind night with a charming stranger.

On her return home, Sewanee discovers one of the world's most beloved romance novelists wanted her to perform her last book–with Brock McNight, the industry's hottest, most secretive voice. Sewanee doesn't buy what romance novels are selling–not after her own dreams were tragically cut short–and she stopped narrating them years ago. But her admiration of the late author, and the opportunity to get her grandmother more help, makes her decision for her.

As Sewanee begins work on the book, resurrecting her old romance pseudonym, she and Brock forge a real connection, hidden behind the comfort of anonymity. Soon, she is dreaming again, but secrets are revealed, and the realities of life come crashing down around her once more.

If she can learn to risk everything for desires she has long buried, she will discover a world of intimacy and acceptance she never believed would be hers.
I loved this book. It deserves its spot on this list. You can read my full review on Thank You for Listening by Julia Whelan here.
Chemist Elizabeth Zott is not your average woman. In fact, Elizabeth Zott would be the first to point out that there is no such thing as an average woman. But it's the early 1960s and her all-male team at Hastings Research Institute takes a very unscientific view of equality. Except for one: Calvin Evans; the lonely, brilliant, Nobel-prize nominated grudge-holder who falls in love with–of all things–her mind. True chemistry results. 

But like science, life is unpredictable. Which is why a few years later Elizabeth Zott finds herself not only a single mother, but the reluctant star of America's most beloved cooking show Supper at Six. Elizabeth's unusual approach to cooking ("combine one tablespoon acetic acid with a pinch of sodium chloride") proves revolutionary. But as her following grows, not everyone is happy. Because as it turns out, Elizabeth Zott isn't just teaching women to cook. She's daring them to change the status quo.
I've heard so much about Lessons in Chemistry, mostly good and a couple making me think that this might not be my cup of tea. As you might know, I'm a bit picky, but I suspect I'll grab this one up at some point anyways.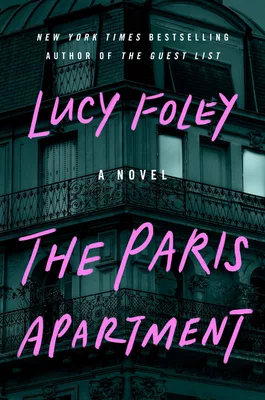 Jess needs a fresh start. She's broke and alone, and she's just left her job under less than ideal circumstances. Her half-brother Ben didn't sound thrilled when she asked if she could crash with him for a bit, but he didn't say no, and surely everything will look better from Paris. Only when she shows up – to find a very nice apartment, could Ben really have afforded this? – he's not there.

The longer Ben stays missing, the more Jess starts to dig into her brother's situation, and the more questions she has. Ben's neighbors are an eclectic bunch, and not particularly friendly. Jess may have come to Paris to escape her past, but it's starting to look like it's Ben's future that's in question.

The socialite – The nice guy – The alcoholic – The girl on the verge – The concierge

Everyone's a neighbor. Everyone's a suspect. And everyone knows something they're not telling.
This one is actually queued up on my libro.fm app as we speak (type?). I thought Foley's previous book, The Guest List, was a fun whodunnit, and it seems like The Paris Apartment is set up to be even better. It has had quite the extensive marketing campaign, so I am a bit wary, but fingers crossed.
One summer. Two rivals. A plot twist they didn't see coming…Nora Stephens' life is books–she's read them all–and she is not that type of heroine. Not the plucky one, not the laidback dream girl, and especially not the sweetheart. In fact, the only people Nora is a heroine for are her clients, for whom she lands enormous deals as a cutthroat literary agent, and her beloved little sister Libby. Which is why she agrees to go to Sunshine Falls, North Carolina for the month of August when Libby begs her for a sisters' trip away–with visions of a small town transformation for Nora, who she's convinced needs to become the heroine in her own story.

But instead of picnics in meadows, or run-ins with a handsome country doctor or bulging-forearmed bartender, Nora keeps bumping into Charlie Lastra, a bookish brooding editor from back in the city. It would be a meet-cute if not for the fact that they've met many times and it's never been cute. If Nora knows she's not an ideal heroine, Charlie knows he's nobody's hero, but as they are thrown together again and again–in a series of coincidences no editor worth their salt would allow–what they discover might just unravel the carefully crafted stories they've written about themselves.
I scoffed a little at Emily Henry books before I tried them, and maybe all of her others are rotten–I don't know. but for me, Book Lovers was the perfect contemporary romance. Cute but not cheesy, trope-y but in the right way, with just the right amount of depth. But also, Henry absolutely pandered to book lovers everywhere and I am no exception. I don't care how cliche bookstore romances are–I'm game. Wanna read my full thoughts? I've written a full review of Emily Henry's Book Lovers right here.
Jennette McCurdy was six years old when she had her first acting audition. Her mother's dream was for her only daughter to become a star, and Jennette would do anything to make her mother happy. So she went along with what Mom called "calorie restriction," eating little and weighing herself five times a day. She endured extensive at-home makeovers while Mom chided, "Your eyelashes are invisible, okay? You think Dakota Fanning doesn't tint hers?" She was even showered by Mom until age sixteen while sharing her diaries, email, and all her income. 

In I'm Glad My Mom Died, Jennette recounts all this in unflinching detail–just as she chronicles what happens when the dream finally comes true. Cast in a new Nickelodeon series called iCarly, she is thrust into fame. Though Mom is ecstatic, emailing fan club moderators and getting on a first-name basis with the paparazzi ("Hi Gale!"), Jennette is riddled with anxiety, shame, and self-loathing, which manifest into eating disorders, addiction, and a series of unhealthy relationships. These issues only get worse when, soon after taking the lead in the iCarly spinoff Sam & Cat alongside Ariana Grande, her mother dies of cancer. Finally, after discovering therapy and quitting acting, Jennette embarks on recovery and decides for the first time in her life what she really wants.
This one fully deserves to be at the top of the list — a bit surprising considering how recently it was released, but it's been a real hit. I was absolutely hooked by I'm Glad My Mom Died, even though I didn't watch a lot of iCarly as a kid. It gives a lot of insight into what the entertainment industry looks like for successful-but-still-not-the-star performers.
I have a newfound respect for Jennette McCurdy, as I'm sure everyone else does too after reading her memoir. She's funny and poignant and so raw. Usually celebrity memoirs aren't all that (money makers, maybe?) but McCurdy has a real talent. The audiobook is even better because she's the one who reads it, which was a flawless choice. You should probably pick up I'm Glad My Mom Died along with the rest of the world.
Right! Those are this year's bestsellers. Do you think they deserve it? Any titles that missed out? Comment your thoughts below!
Love,
*Technically I should disclose that yes, I receive review copies from libro.fm for free, but I am not obligated to post anything in return and am not compensated monetarily.