This post may contain affiliate links, meaning that if you buy something, I might earn a small commission from that sale at no cost to you. As always, my links support indie bookstores. Read my full disclosure here. Thank you for your support.
Content warnings for Thank You For Listening provided at the bottom of this post, for those who would find them useful. You can find further details on content warnings here.
---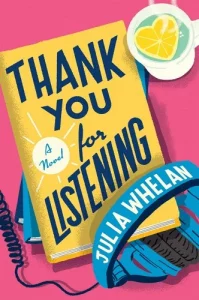 For Sewanee Chester, being an audiobook narrator is a long way from her old dreams, but the days of being a star on film sets are long behind her. She's found success and satisfaction from the inside of a sound booth and it allows her to care for her beloved, ailing grandmother. When she arrives in Las Vegas last-minute for a book convention, Sewanee unexpectedly spends a whirlwind night with a charming stranger.

On her return home, Sewanee discovers one of the world's most beloved romance novelists wanted her to perform her last book–with Brock McNight, the industry's hottest, most secretive voice. Sewanee doesn't buy what romance novels are selling–not after her own dreams were tragically cut short–and she stopped narrating them years ago. But her admiration of the late author, and the opportunity to get her grandmother more help, makes her decision for her.

As Sewanee begins work on the book, resurrecting her old romance pseudonym, she and Brock forge a real connection, hidden behind the comfort of anonymity. Soon, she is dreaming again, but secrets are revealed, and the realities of life come crashing down around her once more.

If she can learn to risk everything for desires she has long buried, she will discover a world of intimacy and acceptance she never believed would be hers.
I knew Julia Whelan's name from all the audiobooks I've listened to her narrate. I haven't tracked her reads specifically (I don't do that for any audiobook performer, as her characters seem to do), but maybe I should because I've always ended up enjoying her voice. She's a real talent, and it's a gift that we get to listen to her read her own work.
In fact, I think the only way to read this one is by audio. I think I say that a lot (sometimes I feel like a broken record with these reviews), but that might just be a wonderful side effect of audiobooks increasing in both popularity and accessibility. I am, for better or worse, addicted to my libro.fm app, and I think publishers are learning that audio content is, in a way, it's own art form. So yes, of course you need to listen to a book about an audiobook narrator on an actual audiobook.
Sewanee (named after the Tennessee town, which I appreciated) is a former actress that lost an eye in a tragic accident — I'll leave it at that as the book reveals what happened, and I'm not going to spoil anything.
It's not often that we see main characters with disabilities in a book that doesn't specifically revolve around the disability. Instead, we see an accurate portrayal of living with Sewanee's injury that doesn't hide away any of the struggles she faces because of it — she is a multi-faceted person, and I think the book world often has the issue of reducing a character down to their disability. Thank You For Listening was a real success in my eyes. (Or should I say ears?)
Sewanee is a romance cynic, and those are the best kinds of romance characters. Because yes, this book is a romance. I'm picky about my romance books, and Sewanee is, too. She's fallen out of love with the genre for many of the same reasons I never liked it in the first place, and by the end of the book, she hasn't done some magical 180 — which I think most would expect if the plot followed the traditional course with these kinds of books. But no, there's nuance in Thank You For Listening. It's charming. It's hilarious. And it's heartrendingly real.
A definite recommend if you want a lighthearted narrative dealing with difficult topics.
Love,
Thank You For Listening by Julia Whelan was released August 2, 2022. Although Avon Books and libro.fm provided me with a free review copy, this did not in any way affect my review.
CW: Mental illness, suicide, abuse, death or dying, kidnapping and other events that might be consider traumatic, self-harm