This post may contain affiliate links, meaning that if you buy something, I might earn a small commission from that sale at no cost to you. Read my full disclosure here.
Title: The Spear Cuts Through Water
Author: Simon Jimenez
Publisher: Del Rey
Genre: Epic fantasy, literary fiction
Format: hardcover
Previous works: The Vanished Birds
The people suffer under the centuries-long rule of the Moon Throne. The royal family—the despotic emperor and his monstrous sons, the Three Terrors—hold the countryside in their choking grip. They bleed the land and oppress the citizens with the frightful powers they inherited from the god locked under their palace.

But that god cannot be contained forever.

With the aid of Jun, a guard broken by his guilt-stricken past, and Keema, an outcast fighting for his future, the god escapes from her royal captivity and flees from her own children, the triplet Terrors who would drag her back to her unholy prison. And so it is that she embarks with her young companions on a five-day pilgrimage in search of freedom—and a way to end the Moon Throne forever. The journey ahead will be more dangerous than any of them could have imagined.
The Spear Cuts Through Water is pretty hyped. I'll preface this by saying I'm usually wary of literary fantasy, because it can easily come off quite pretentious and, well, boring. Nevertheless, my reader's heart still leaps when titles this ambitious make their way to shelves. I love the idea that the main narrative is from the point of view of a god.
Title: My Dirty California
Author: Jason Mosberg
Publisher: Simon & Schuster
Genre: Thriller & suspense
Format: hardcover
Debut
When Marty returns to Pennsylvania after living in California for ten years, he's happily welcomed by his father and older brother, Jody. The joyful reunion is short-lived. Two days later, Jody enters the house to find his father and Marty shot dead as their masked killer flees out the back door. Without any answers from the local police, Jody heads to Los Angeles looking for who murdered his family and why.

Soon, he finds a trove of strange videos recorded by his brother that leads him into the city's most dangerous corners, where he comes up against drug dealers, crooked cops, surf gangs, and black-market profiteers. As his investigation expands, it also intersects with Pen, a documentary filmmaker who suspects humanity is living in a simulation and that her missing father found a portal to escape; Renata, an undocumented immigrant who might have evidence to support Pen's theory; and Tiph, a young mother whose desperate efforts to support her only child via a stolen art stash could prove the key to answering all these mysteries.

My Dirty California is a cinematic, suspenseful, intricately plotted thriller that explores the darker side of the glamorous Golden State.
I love an unsolved murder. That's it — that's the reason this is on the list. I think the summary speaks for itself.
Title: Daisy Darker
Author: Alice Feeney
Publisher: Flatiron Books
Genre: Thriller
Format: hardcover
Previous works: Rock Paper Scissors, Sometimes I Lie, His & Hers, I Know Who You Are
Daisy Darker was born with a broken heart. Now after years of avoiding each other, Daisy Darker's entire family is assembling for Nana's 80th birthday party in her crumbling gothic house on a tiny tidal island. The family arrives, each of them harboring secrets. When the tide comes in, they will be cut off from the rest of the world for eight hours.

But at the stroke of midnight, as a storm rages, Nana is found dead. And an hour later, the next family member follows…

Trapped on an island where someone is killing them one by one, the Darkers must reckon with their present mystery as well as their past secrets, before the tide goes out and all is revealed.
This one is on the list (as I'm sure it is on many others) because I really enjoyed a previous Alice Feeney book, His & Hers. Everyone else on the planet seems to have read Rock Paper Scissors and liked it just as much, so I have faith in Feeney's writing abilities. I'm picky about my thriller reads, and although Feeney seems to stick to the genre formula pretty faithfully, I'll admit she's very good at it.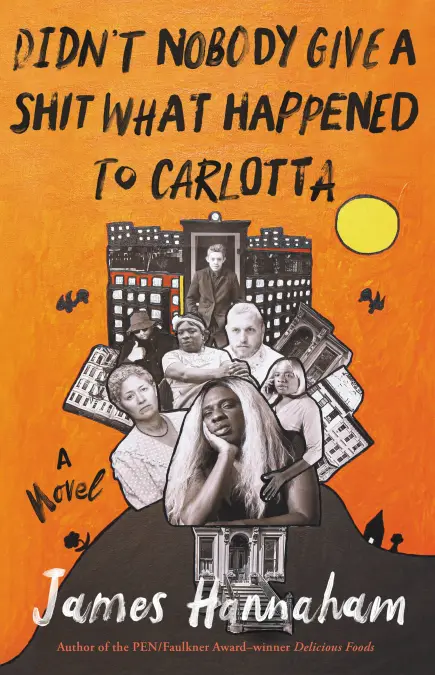 Title: Didn't Nobody Give A Sh*t What Happened to Carlotta *
Author: James Hannaham
Publisher: Little, Brown
Genre: Fiction
Format: Hardcover
Previous works: Delicious Foods
*I have censored the title purely because my articles feed to other platforms that don't allow some language.
Carlotta Mercedes has been misunderstood her entire life. When she was pulled into a robbery gone wrong, she still went by the name she'd grown up with in Fort Greene, Brooklyn—before it gentrified. But not long after her conviction, she took the name Carlotta and began to live as a woman, an embrace of selfhood that prison authorities rejected, keeping Carlotta trapped in an all-male cell block, abused by both inmates and guards, and often placed in solitary.

In her fifth appearance before the parole board, Carlotta is at last granted conditional freedom and returns to a much-changed New York City. Over a whirlwind Fourth of July weekend, she struggles to reconcile with the son she left behind, to reunite with a family reluctant to accept her true identity, and to avoid any minor parole infraction that might get her consigned back to lockup.
This is one I've had my eye on for a while now, because it looks absolutely brilliant. I think it has the potential to teach readers a lot and provide a perspective not many people get. Trans characters are sorely lacking in the literature scene today (at least, accurate representations). From what I've seen of James Hannaham, I believe he will handle this story with the complexity and nuance it deserves. If you want to know what I mean, just check out this interview of him in the New York Times and tell me you don't want to read more.
That's it for now — if anyone picks up one of these titles, please let me know what you think!
All my best,