They Both Die at the End by Adam Silvera Summary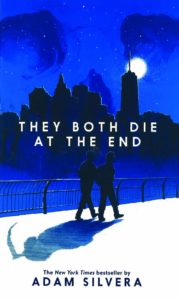 On September 5, a little after midnight, Death-Cast calls Mateo Torrez and Rufus Emeterio to give them some bad news: They're going to die today.

Mateo and Rufus are total strangers, but, for different reasons, they're both looking to make a new friend on their End Day. The good news: There's an app for that. It's called the Last Friend, and through it, Rufus and Mateo are about to meet up for one last great adventure–to live a lifetime in a single day.

In the tradition of Before I Fall and If I Stay, They Both Die at the End is a tour de force from acclaimed author Adam Silvera, whose debut, More Happy Than Not, the New York Times called "profound."
They Both Die at the End by Adam Silvera Review
I read More Happy Than Not by Adam Silvera way back when, and appreciated it for its Eternal Sunshine of the Spotless Mind-type aesthetic. I was a sucker for Silvera's realist/contemporary fiction with a slight sci-fi tilt back then, so I was excited to finally pick this one up.
I didn't read any blurbs on it beforehand and just jumped right in, so I was a bit surprised to find that They Both Die at the End had a similar plot.
Once again, Silvera explores a near-future world with the development of a new technology — in this case, it is a company which has the ability to foretell a person's death, calling them on the day of their demise.
The story follows teenage boys Rufus and Mateo on the day they are slated to die, who meet on a Tinder-like app designed to connect these so-called "deckers" with a "Last Friend" to spend their final day with.
The boys have their own challenges — Mateo's father is in a coma, and Rufus is on the run from the police — but are complete opposites. Despite these differences, they venture out to tie up loose ends and have new experiences together, displaying a world which has become with final days. There are also some revolving characters who get a brief narrative, though it primarily follows Rufus and Mateo.
Personally, this novel didn't really work for me for a few reasons. For such a complex subject and plot, the book seemed too short and surface-level to do it justice. The idea itself is wonderful, but not quite fleshed-out enough to suspend my disbelief of the technology, which just seemed far-fetched in the way Silvera presents it. Furthermore, there were a lot of side stories and plot lines in which it seems Silvera attempted to give a more rounded world view, but they were so short-lived that they didn't particularly add anything.
I also struggled with the idea of romanticizing an impending death. I am sure that Silvera had the best of intentions in portraying this "live life to the fullest" attitude, but (light spoiler alert) this romance-at-the-end-of-the-world thing seemed a bit too much. There were also constant tones of making those left behind feel a certain way, and Mateo and Rufus both seemed preoccupied with leaving behind a certain portrayal of their lives.
As someone who has personally struggled with suicidal tendencies, I took issue with this, especially when it comes to the fact that this book is aimed at high school-aged readers. I feel a bit hesitant at voicing this opinion, as it seems quite nit-picky, but I would love to hear others' thoughts on this issue.
Additionally, Rufus in particular is quite down on social media, following Mateo's offer of showing him the photos he took of him with a comment about how he doesn't like to "approve" his photos that feels a bit bitter. He also has a Instagram aesthetic that includes making his normally black-and-white photos colorful for his last day.
Personally, I hate the idea that there is a "wrong" and "right" way to use social media (barring things like bullying, of course), especially from an author who didn't age in the same time as his readers and therefore likely uses social media differently.
Yes, I agree social media platforms warp our images of ourselves and pressure users to present the best versions of themselves, and that this can be problematic, but that does not in any way mean it isn't okay to make sure you like a photo of yourself and it absolutely isn't okay to shame people for doing so (no matter how subtle it may be). If an author wants to comment on something like this, I would much rather prefer to see them use positive examples rather than shaming people down.
What I can say I appreciate, as always, is Silver's portrayal of LGBTQA+ characters, specifically, normalizing bisexuality. I personally wish there had been more of this kind of writing a few years back when I was coming up, as I believe it would have made me a lot less ignorant earlier in my life, instead of my primary exposure coming from the stereotypical "token" queer characters I was given. Yay for progress, always!
Other than my reservations on the romanticization issue, I think this would be an enjoyable semi-light read for mature middle schoolers and high schoolers. Just beware that there are some slightly problematic themes — I would love to hear further thoughts and comments on this issue!
They Both Die At the End Quotes
"You may be born into a family, but you walk into friendships. Some you discover you'll put behind you. Others are worth every risk."
"Maybe it's better to have gotten it right and been happy for one day instead of living a lifetime of wrongs."
"No one should feel bad for trying to be good."
"No one goes on, but what we leave behind keeps us alive for someone else."
"I want us to have history, something longer than the small window of time we're actually sharing."
Books Like They Both Die At the End
If you liked They Both Die at the End, I would suggest you check out the YA novel No One Here is Lonely by Sarah Everett, which I've reviewed here.
They Both Die at the End is also on my list of my favorite Latinx books.
Much love,