This post may contain affiliate links, meaning that if you buy something, I might earn a small commission from that sale at no cost to you. As always, my links support indie bookstores. Read my full disclosure here. Thank you for your support.
Hi there! I'm Grace and this is my weekly post on what book releases I'm excited for and why I'm intrigued by them. There are no hard and fast rules about what goes on this list as I'll pick up anything as long as it sparks an interest in me. We don't discriminate against different reading tastes here.
That being said, I do have my MA in English, but this list is not based on "literary value" (or whatever that means). The choices are based solely on what catches my eye. I am a one person machine, meaning I might miss out on some new releases–if you have a title you think is worth mentioning, do bring it up in the comments. Now, let's help you find your next read.
---
Before we get down to the fun stuff, I want to ask for a holiday favor: I would really appreciate it if you gave me a follow or subscription, or even just shared one of my articles. It helps so, so much to keep me doing what I love.
A bunch of new releases for you today! This is probably the last full list I'll do of the year–things really start winding down in terms of publishing in the next few weeks. Regardless, the choices here should keep you going for the rest of the holiday season.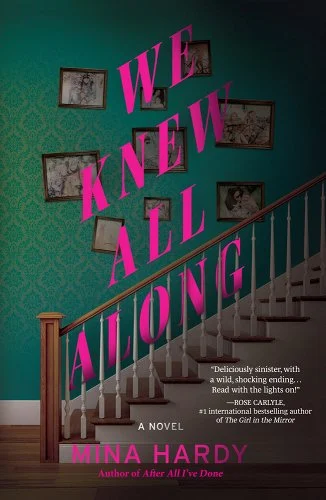 Title: We Knew All Along
Author: Mina Hardy
Publisher: Crooked Lane Books
Genre: Suspense & thriller
Format: hardcover
Previous works: After All I've Done (pen name Megan Hart)
Blame the booze, her shaky marriage, her troubled son, or a thousand other things. Jewelann Jordan has one thing on her mind when she attends her class reunion, and that's making sure her old crush Christian Campbell sees exactly what he lost all those years ago. A late night, a hotel room, a rekindled flame that burns even hotter than it did back then. What could go wrong? Everything. The night with Christian isn't the first secret Jewelann has kept from her husband Ken, so one more shouldn't be much harder–except that Christian shows up without warning, seemingly determined to do his best to mess up Jewelann's life in any way he can. Worse than that, he seems to have his sights set on charming her son, Eli, and befriending her husband. Revenge isn't so sweet when it bites you back, but Jewelann is determined to keep Christian from ruining everything she's worked so hard to keep safe, including her son. Fighting to keep it all from spiraling out of control, Jewelann discovers Christian is not the man he claims to be. When darker secrets emerge, even closer to home, Jewelann takes the chance to turn the tables on him. The more Jewelann digs for the truth, the uglier–and the deadlier–it gets.
Remember The Golden Couple by Greer Hendricks and Sarah Pekkanen? Well, I very much enjoyed that read and what drew me to it is the same thing that attracts me to We Knew All Along. I've had my eye on Hardy's new release for a while now, because I love a morally grey character getting completely one-upped by another, much worse character.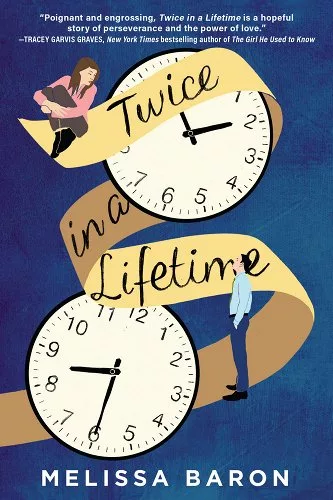 Title: Twice in a Lifetime
Author: Melissa Baron
Publisher: Alcove Press
Genre: contemporary romance, women's fiction
Format: paperback
Debut
Isla has fled the city for small-town Missouri in the wake of a painful and exhausting year. With her chronic anxiety at a fever pitch, the last thing she expects is to meet a genuine romantic prospect. And she doesn't. But she does get a text from a man who seems to think he's her husband. Obviously, a wrong number–except when she points this out, the mystery texter sends back a picture. Of them–on their wedding day. Isla cautiously starts up a texting relationship with her maybe-hoax, maybe-husband Ewan, who claims to be reaching out from a few years into the future. Ewan knows Isla incredibly well, and seems to love her exactly as she is, which she can hardly fathom. But he's also grieving, because in the future, he and Isla are no longer together. Ewan is texting back through time to save her from a fate he is unwilling to share–and all she can do to prevent that fate is to learn to be happy, now, in the body she has, with the mind she has. The only trouble is the steps she takes in that direction might be steps away from a future with Ewan.
This screams Hart of Dixie mixed with The Time Traveller's Wife. A classic Hallmark-esque story with a twist that sounds perfect for curling up with over the holiday winter weather. Maybe some hot chocolate is called for. This is a romance that has depth and complexity beyond your run-of-the-mill meet cute. I'm ready for it.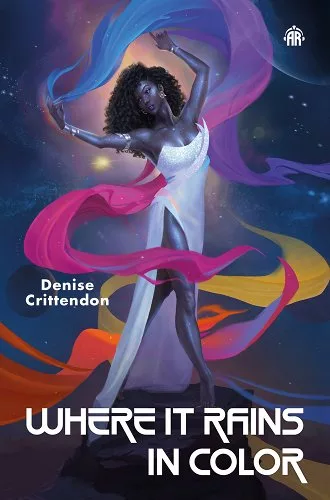 Title: Where It Rains in Color
Author: Denise Crittendon
Publisher: Angry Robot
Genre: Space opera, fairy tale
Format: paperback
Debut
Colonized by the descendants of Earth's West African Dogon Tribe, the planet of Swazembi is a blazing, color-rich utopia and famous vacation center of the galaxy. No one is used to serious trouble in this idyllic, peace-loving world, least of all the Rare Indigo. But Lileala's perfect, pampered lifestyle is about to be shattered. The unthinkable happens and her glorious midnight skin becomes infected with a mysterious disease. Where her skin should glisten like diamonds mixed with coal, instead it scabs and scars. On top of that, she starts to hear voices in her head, and everything around her becomes confusing and frightening. Lileala's destiny, however, goes far beyond her beauty. While searching for a cure, she stumbles upon something much more valuable. A new power awakens inside her, and she realizes her whole life, and the galaxy with it, is about to change…
Without even reading the synopsis, I'm absolutely sold on the cover alone. But the story, too, is begging to be read. A beautiful girl with a curse is already an alluring story, but mix it with a sci-fi society and a mysterious power and I'm there. This is also released as a paperback, so if you're looking to pick up something slightly out of your comfort zone without the cost of a hardback, this would be a great choice. (Curious about the difference between hardcover and paperback? Read my article on it here.)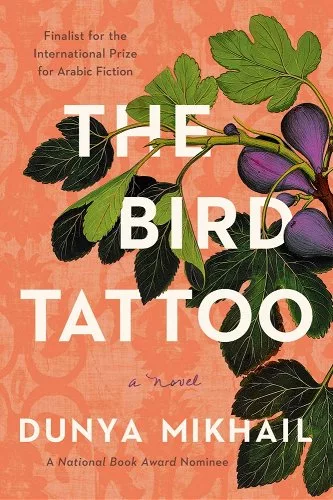 Title: The Bird Tattoo
Author: Dunya Mikhail
Publisher: Pegasus Books
Genre: Literary fiction
Format: hardcover
Previous works: The Beekeeper
Helen is a young Yazidi woman, living with her family in a mountain village in Sinjar, northern Iraq. One day she finds a local bird caught in a trap, and frees it, just as the trapper, Elias, returns. At first angry, he soon sees the error of his ways and vows never to keep a bird captive again. Helen and Elias fall deeply in love, marry and start a family in Sinjar. The village has seemed to stand apart from time, protected by the mountains and too small to attract much political notice. But their happy existence is suddenly shattered when Elias, a journalist, goes missing. A brutal organization is sweeping over the land, infiltrating even the remotest corners, its members cloaking their violence in religious devotion. Helen's search for her husband results in her own captivity and enslavement. She eventually escapes her captors and is reunited with some of her family. But her life is forever changed. Elias remains missing and her sons, now young recruits to the organization, are like strangers. Will she find harmony and happiness again?
A family ripped apart by political strife and the ever-increasingly dangerous job of a journalist is a story we are too familiar with. This is going to be a heavy read, but I suspect a very important one.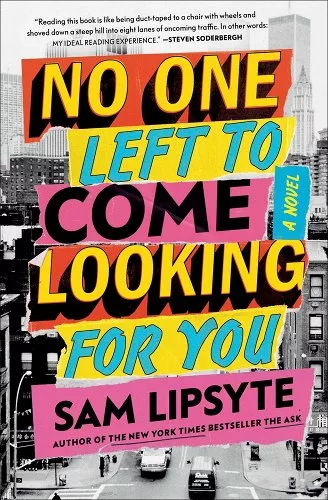 Title: No One Left to Come Looking for You
Author: Sam Lipsyte
Publisher: Simon & Schuster
Genre: Literary fiction, satire/humor
Format: hardcover
Previous works: Hark
Manhattan's East Village, 1993. Dive bars, DIY music venues, shady weirdos, and hard drugs are plentiful. Crime is high but rent is low, luring hopeful, creative kids from sleepy suburbs around the country. One of these is Jack S., a young New Jersey rock musician. Just a few days before his band's biggest gig, their lead singer goes missing with Jack's prized bass, presumably to hock it to feed his junk habit. Jack's search for his buddy uncovers a sinister entanglement of crimes tied to local real estate barons looking to remake New York City–and who might also be connected to the recent death of Jack's punk rock mentor. Along the way, Jack encounters a cast of colorful characters, including a bewitching, quick-witted scenester who favors dressing in a nurse's outfit, a monstrous hired killer with a devotion to both figure skating and edged weapons, a deranged if prophetic postwar novelist, and a tough-talking cop who fancies himself a retro-cool icon of the homicide squad but is harboring a surprising secret.
This title gives me the chills, but I'm an absolute sucker for a satire and a colourful cast of characters.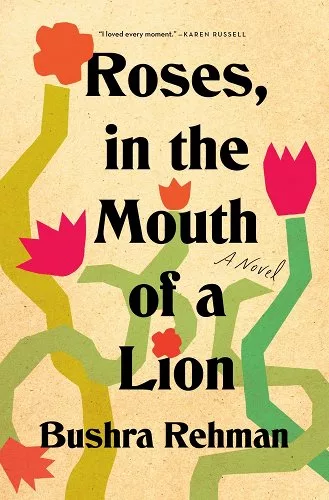 Title: Roses, in the Mouth of a Lion
Author: Bushra Rehman
Publisher: Flatiron Books
Genre: Literary fiction
Format: hardcover
Previous works: Marianna's Beauty Salon, Corona
Razia Mirza grows up amid the wild grape vines and backyard sunflowers of Corona, Queens, with her best friend, Saima, by her side. When a family rift drives the girls apart, Razia's heart is broken. She finds solace in Taslima, a new girl in her close-knit Pakistani-American community. They embark on a series of small rebellions: listening to scandalous music, wearing miniskirts, and cutting school to explore the city. When Razia is accepted to Stuyvesant, a prestigious high school in Manhattan, the gulf between the person she is and the daughter her parents want her to be, widens. At Stuyvesant, Razia meets Angela and is attracted to her in a way that blossoms into a new understanding. When their relationship is discovered by an Aunty in the community, Razia must choose between her family and her own future.
Young adulthood is already tumultuous enough without the pressures of familiar expectations and new relationships. Roses, in the Mouth of a Lion promises to be stunning.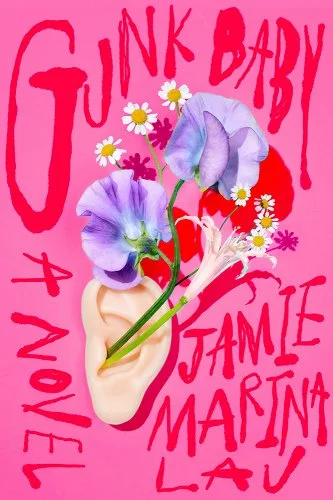 Title: Gunk Baby
Author: Jamie Marina Lau
Publisher: Astra House
Genre: fiction
Format: paperback
Previous works: Pink Mountain on Locust Island
In the suburb of Par Mars stand a pair of identical shopping centers, each with the same harsh, fluorescent lights, climate-controlled environment, and monotonous encounters between employees and shoppers. Reviving an ancient Chinese ritual passed down by her mother, twenty-four-year-old Leen has opened an ear-cleaning and massage studio in the Topic Heights Shopping Center. But the social fabric of Par Mars is coming loose, and a quiet unrest is growing among the mall's low-wage workers as store managers begin to fall victim to increasingly brutal and spontaneous attacks. When Leen befriends Jean Paul, a pharmacist enmeshed in a cryptic online community, she finds herself embroiled in a troubling plot to disrupt the routines of the town's banal consumer culture.
I feel about the word "gunk" as most do "moist" and yet, this book made the list. Another paperback to tuck in your suitcase during travel! Gunk Baby intrigues me with the chaotic nature of its blurb.
---
That's it for this week! What other books belong on this list?
If you liked this post, I would be ever so grateful for a follow/subscribe. It helps this young independent creator out a lot.
Love,