This post may contain affiliate links, meaning that if you buy something, I might earn a small commission from that sale at no cost to you. As always, my links support indie bookstores. Read my full disclosure here. Thank you for your support.
Content warnings for Tomorrow and Tomorrow and Tomorrow provided at the bottom of this post, for those who would find them useful. You can find further details on content warnings here.
---
Y'all, this is not a drill: Tomorrow and Tomorrow and Tomorrow might be my favorite book of 2022. (A side note: I accidentally wrote 2020 right then and I need help.)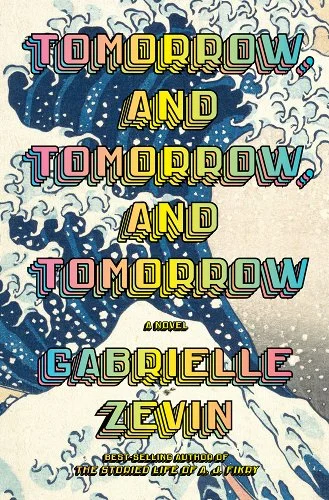 On a bitter-cold day, in the December of his junior year at Harvard, Sam Masur exits a subway car and sees, amid the hordes of people waiting on the platform, Sadie Green. He calls her name. For a moment, she pretends she hasn't heard him, but then, she turns, and a game begins: a legendary collaboration that will launch them to stardom.

These friends, intimates since childhood, borrow money, beg favors, and, before even graduating college, they have created their first blockbuster, Ichigo. Overnight, the world is theirs.

Not even twenty-five years old, Sam and Sadie are brilliant, successful, and rich, but these qualities won't protect them from their own creative ambitions or the betrayals of their hearts.

Spanning thirty years, from Cambridge, Massachusetts, to Venice Beach, California, and lands in between and far beyond, Gabrielle Zevin's Tomorrow, and Tomorrow, and Tomorrow is a dazzling and intricately imagined novel that examines the multifarious nature of identity, disability, failure, the redemptive possibilities in play, and above all, our need to connect: to be loved and to love. Yes, it is a love story, but it is not one you have read before.
All of my English Literature students out there will know what's up with the title, but if you don't, I'm not going to explain it here because the book does a beautiful job of that on its own.
Tomorrow and Tomorrow and Tomorrow is the story of two childhood friends who reconnect in college thanks to their entwined pasts and shared dreams of making a video game. Sam has just realised he doesn't love his chosen field as much as he thought he did, and Sadie is developing her talent in a class taught by a legendary—yet coarse and critical—game designer.
You might not know this about me, but one of my interests/side hobbies is game design. (Unlike Sadie, I refuse to let anyone see my first-ever game.) So, this book spoke to me immediately. While I was excited about the plot, what I didn't expect was the beauty in the story.
Zevin's writing has that magical quality every writer strives for—the kind of voice that makes me think she could easily have been a poet instead.
She eases through ruminations on love, life, and friendship with a grace that eludes the many writers who try to marry such nebulous topics with a compelling story. Even if the reader is uninterested in game design, Zevin encapsulates beautifully the invincible, hopeful university student with a dream and sees her characters through a vicarious adventure.
Her characters are, much like the game Sadie dreams of making, capable of being in multiple worlds at once, twisting and contradicting themselves, showing a flash of compassion just when you start to hate them. In other words, they are vivid and true. Zevin's cast deals with subjects like disability and domestic abuse honestly, and they tackle challenging and timely questions such as who can tell certain stories. Throughout it all, there is no solid judgement from Zevin on any of these topics — just a curiosity and wonder about the world and people.
When you reach the end, Tomorrow and Tomorrow and Tomorrow feels like a completely different book, but in the best possible way. I have frequently used that as a criticism in my reviews, but as with pretty much everything to do with writing, if the writer is talented enough, even the worst storytelling features can be pulled off. (Does that make sense? I hope so.) Zevin is more than talented enough.
I have found often that the most profound books for me are ones that are able to span a large amount of time and document the growth of characters as they age. One of my earliest favorite series, Cirque du Freak (a.k.a. The Saga of Darren Shan), did just that and it was a revelation to young reader Grace. Finding books that pull at those same strings always manage to get me.
For lovers of Thomas Pierce's The Afterlives and Jason Rekulak's The Impossible Fortress, Tomorrow and Tomorrow and Tomorrow is one story that will stay in the minds of readers for a long time to come.
If you take one book recommendation from me this year, make it this one.
Love,
Tomorrow, and Tomorrow, and Tomorrow by Gabrielle Zevin was released July 5, 2022. Although Knopf Publishing Group and libro.fm provided me with a free review copy, this did not in any way affect my review.
CW: Mental illness, rape and sexual assault, excessive violence, abuse (physical, mental, emotional, verbal, sexual), eating disorders, etc., suicide, pornography, death or dying, kidnapping and other events that might be consider traumatic, miscarriages/abortion