This post may contain affiliate links, meaning that if you buy something, I might earn a small commission from that sale at no cost to you. As always, my links support indie bookstores. Read my full disclosure here. Thank you for your support.
There's a good variety of new releases here for you today! Three of four are debuts, so we've got some new voices on the scene. Check them out! Or don't! But be good to yourself and pick up a book this week.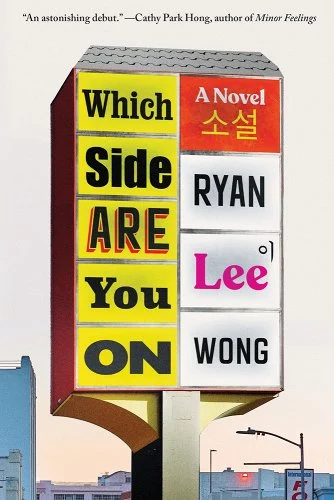 Title: Which Side Are You On
Author: Ryan Lee Wong
Publisher: Catapult
Genre: Fiction
Format: hardcover
Debut
Twenty-one-year-old Reed is fed up. Angry about the killing of a Black man by an Asian American NYPD officer, he wants to drop out of college and devote himself to the Black Lives Matter movement. But would that truly bring him closer to the moral life he seeks?

In a series of intimate, charged conversations, his mother—once the leader of a Korean-Black coalition—demands that he rethink his outrage, and along with it, what it means to be an organizer, a student, an ally, an American, and a son. As Reed zips around his hometown of Los Angeles with his mother, searching and questioning, he faces a revelation that will change everything. 

Inspired by his family's roots in activism, Ryan Lee Wong offers an extraordinary debut novel for readers of Anthony Veasna So, Rachel Kushner, and Michelle Zauner: a book that is as humorous as it is profound, a celebration of seeking a life that is both virtuous and fun, an ode to mothering and being mothered.
Humor in matters like this is what we all need to get by, and I'm excited about hearing Wong's perspective.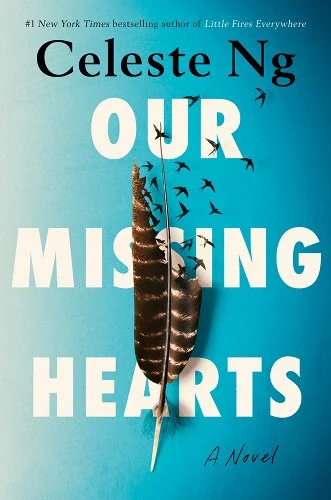 Title: Our Missing Hearts
Author: Celeste Ng
Publisher: Penguin Press
Genre: Literary fiction, dystopian
Format: hardcover
Previous works: Little Fires Everywhere, Everything I Never Told You
Twelve-year-old Bird Gardner lives a quiet existence with his loving but broken father, a former linguist who now shelves books in a university library. Bird knows to not ask too many questions, stand out too much, or stray too far. For a decade, their lives have been governed by laws written to preserve "American culture" in the wake of years of economic instability and violence. To keep the peace and restore prosperity, the authorities are now allowed to relocate children of dissidents, especially those of Asian origin, and libraries have been forced to remove books seen as unpatriotic—including the work of Bird's mother, Margaret, a Chinese American poet who left the family when he was nine years old. 

Bird has grown up disavowing his mother and her poems; he doesn't know her work or what happened to her, and he knows he shouldn't wonder. But when he receives a mysterious letter containing only a cryptic drawing, he is pulled into a quest to find her. His journey will take him back to the many folktales she poured into his head as a child, through the ranks of an underground network of librarians, into the lives of the children who have been taken, and finally to New York City, where a new act of defiance may be the beginning of much-needed change.
You probably don't even need to be told this one is being released — it comes from heavy hitter Celeste Ng of Little Fires Everywhere fame. (I still need to watch the show.) It feels like it's been a while since Ng released something, and I can't wait to see what's been in the works.
Title: Jackal
Author: Erin E. Adams
Publisher: Bantam
Genre: Paranormal Fiction, Suspense & Thriller, Gothic & Horror
Format: hardcover
Debut
It's watching.

Liz Rocher is coming home . . . reluctantly. As a Black woman, Liz doesn't exactly have fond memories of Johnstown, Pennsylvania, a predominantly white town. But her best friend is getting married, so she braces herself for a weekend of awkward, passive-aggressive reunions. Liz has grown, though; she can handle whatever awaits her. But on the day of the wedding, somewhere between dancing and dessert, the couple's daughter, Caroline, disappears—and the only thing left behind is a piece of white fabric covered in blood.

It's taking.

As a frantic search begins, with the police combing the trees for Caroline, Liz is the only one who notices a pattern: A summer night. A missing girl. A party in the woods. She's seen this before. Keisha Woodson, the only other Black girl in Liz's high school, walked into the woods with a mysterious man and was later found with her chest cavity ripped open and her heart removed. Liz shudders at the thought that it could have been her, and now, with Caroline missing, it can't be a coincidence. As Liz starts to dig through the town's history, she uncovers a horrifying secret about the place she once called home. Children have been going missing in these woods for years. All of them Black. All of them girls.

It's your turn.

With the evil in the forest creeping closer, Liz knows what she must do: find Caroline, or be entirely consumed by the darkness.
This is so creepy and has a great atmosphere to it. I appreciate a missing persons plot line, but it's been done quite a lot recently so I'm trying to be a bit pickier here. The familiarity of Pennsylvania calls to me (and the eerie way it sort of feels like the South still?) and the majority white community and homecoming make me think of Get Out, which as we all know, was a masterpiece.
Title: The Family Outing
Author: Jessi Hempel
Publisher: HarperOne
Genre: Memoir
Format: hardcover
Debut
Jessi Hempel was raised in a seemingly picture-perfect, middle-class American family. But the truth was far from perfect. Her father was constantly away from home, traveling for work, while her stay-at-home mother became increasingly lonely and erratic. Growing up, Jessi and her two siblings struggled to make sense of their family, their world, their changing bodies, and the emotional turmoil each was experiencing. And each, in their own way, was hiding their true self from the world.

By the time Jessi reached adulthood, everyone in her family had come out: Jessi as gay, her sister as bisexual, her father as gay, her brother as transgender, and her mother as a survivor of a traumatic experience with an alleged serial killer. Yet coming out was just the beginning, starting a chain reaction of other personal revelations and reckonings that caused each of them to question their place in the world in new and ultimately liberating ways.
A very good pun. I don't know who Jessica Hempel is, but I'm intrigued by her life so here we go. I love a memoir!
Well, look at that! Four books again. Maybe we've got some sort of pattern going, and I should just stick to four new releases each week (except I make no promises). Let me know your thoughts in the comments, and let me in on any book buzz I'm missing!
As always,