This post may contain affiliate links, meaning that if you buy something, I might earn a small commission from that sale at no cost to you. Read my full disclosure here.
Content warnings for The Arc provided at the bottom of this post, for those who would find them useful. You can find further details on content warnings here.
the arc by tory henwood hoen review
Can you curate your soulmate? Thirty-five-year-old Ursula Byrne, VP of Strategic Audacity at a branding agency in Manhattan, is successful, witty, whip-smart, and single. She's tried all the dating apps, and let's just say: she's underwhelmed by her options. You'd think that by now someone would have come up with something more bespoke; a way for users to be more tailored about who and what they want in a life partner–how hard could that be?

Enter The Arc: a highly secretive, super-sophisticated matchmaking service that uses a complex series of emotional, psychological and physiological assessments to architect partnerships that will go the distance. The price tag is high, the promise ambitious–a level of lifelong compatibility that would otherwise be unattainable. In other words, The Arc will find your ideal mate. Ursula is paired with forty-two-year-old lawyer Rafael Banks. From moment one, this feels like the electric, lasting love they've each been seeking their whole adult lives. But as their relationship unfolds in unanticipated ways, the two begin to realize that true love is never a sure thing. And the arc of a relationship is never predictable…even when it's fully optimized.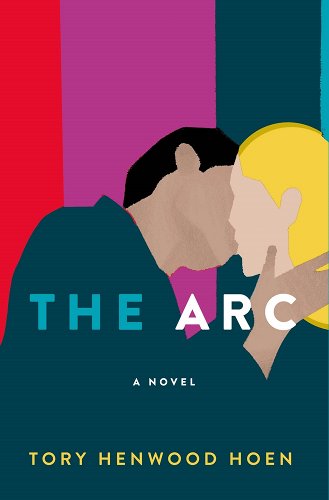 The Arc by Tory Henwood Hoen review
Hoen is a writer with insight, that's for sure. I am no Sally Rooney fan (for more on that read my spoiler-filled review of Beautiful World, Where Are You) but I have a feeling that if you are into her writing, you would appreciate The Arc. Hoen poetically pinpoints such specific aspects of everyday modern life, but it doesn't come off as superfluous, which I think is a difficult thing to do judging from the number of writers who attempt to do so and, in my opinion, don't succeed.
At first, I couldn't really pinpoint if this was supposed to be satire, and to what degree, but no, The Arc is basically a rom-com with a dash of speculative fiction that truly made me think (which is my favorite). I do love some satire — Black Buck and Qualityland are two of my favorites of the recent past.
Part of the way through I jotted in my notes that I was growing a bit bored and felt the story lulling, and wrote out "will it be worth it?" I can now answer with a definite yes — the setup might have felt like it dragged a bit, but it absolutely ended up working.
The first conflict is absolutely masterful, in my opinion. Hoen picks words so carefully, and each and every one holds meaning. I'm sure it's the poet side of me, but I drool over such well-considered language. The tension is so palpable in what is otherwise a seemingly inconsequential conversation, and hard not to relate to.
I found the end to be a little unbelievable — I'm not going to spoil things, obviously, but if you have read it, this scene seemed a little bad for business. Feel free to disagree, and to be fair, it wasn't a dealbreaker for me as I thought the overall effect was delightful. I must admit, I saw that particular twist from a ways back, but only because I found Hoen to be a pretty balanced storyteller, and I couldn't see the story ending without some sort of justification.
Anyways, that is vague, I know, but I'm hoping you will pick up The Arc and discuss it with me, because I think you'll find it worth your time.
Love,
The Arc by Tory Henwood Hoen was released February 8, 2022. Although St. Martin's Press and libro.fm provided me with a free review copy, this did not in any way affect my review.
CW: Mental illness