This post may contain affiliate links, meaning that if you buy something, I might earn a small commission from that sale at no cost to you. As always, my links support indie bookstores. Read my full disclosure here. Thank you for your support.
Content warnings for Leave the World Behind provided at the bottom of this post, for those who would find them useful. You can find further details on content warnings here.
UPDATE October 2022: Leave the World Behind is going to be a Netflix film starring Julia Roberts, Mahershala Ali, and Ethan Hawke! The movie adaptation began filming in April 2022, and although we don't yet have a release date, all signs point to having news soon.
Originally, Denzel Washington was set to star, but has since been replaced by Oscar-winner Mahershala Ali. Sam Esmail is directing, with Roberts and Rumaan Alam producing. Higher Ground, a production company founded by Barack and Michelle Obama, is also attached.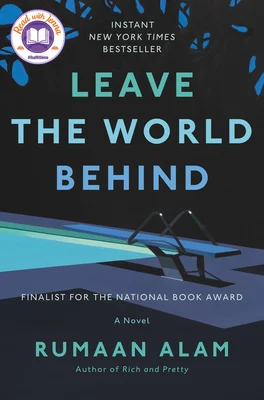 Leave the World Behind by Rumaan Alam summary
Amanda and Clay head out to a remote corner of Long Island expecting a vacation: a quiet reprieve from life in New York City, quality time with their teenage son and daughter, and a taste of the good life in the luxurious home they've rented for the week. But a late-night knock on the door breaks the spell. Ruth and G. H. are an older couple–it's their house, and they've arrived in a panic. They bring the news that a sudden blackout has swept the city. But in this rural area–with the TV and internet now down, and no cell phone service–it's hard to know what to believe.

Should Amanda and Clay trust this couple–and vice versa? What happened back in New York? Is the vacation home, isolated from civilization, a truly safe place for their families? And are they safe from one other?
Leave the World behind by Rumaan Alam Review
Leave the World Behind was a fabulous read. It has all my favorites: poetic language, an end-of-the-world scenario, and filled with human moments. (Weirdly enough, Station Eleven just didn't do it for me.)
The entire story feels like it happens in a bubble, as the title would suggest. The cast is limited to those in the house except for a few rare moments, and Alam is clearly dedicated to characters only existing to serving a purpose, which I appreciate. This gave the story a stage-like quality: each interaction carefully choreographed against the backdrop of a beautiful home in the isolated forest.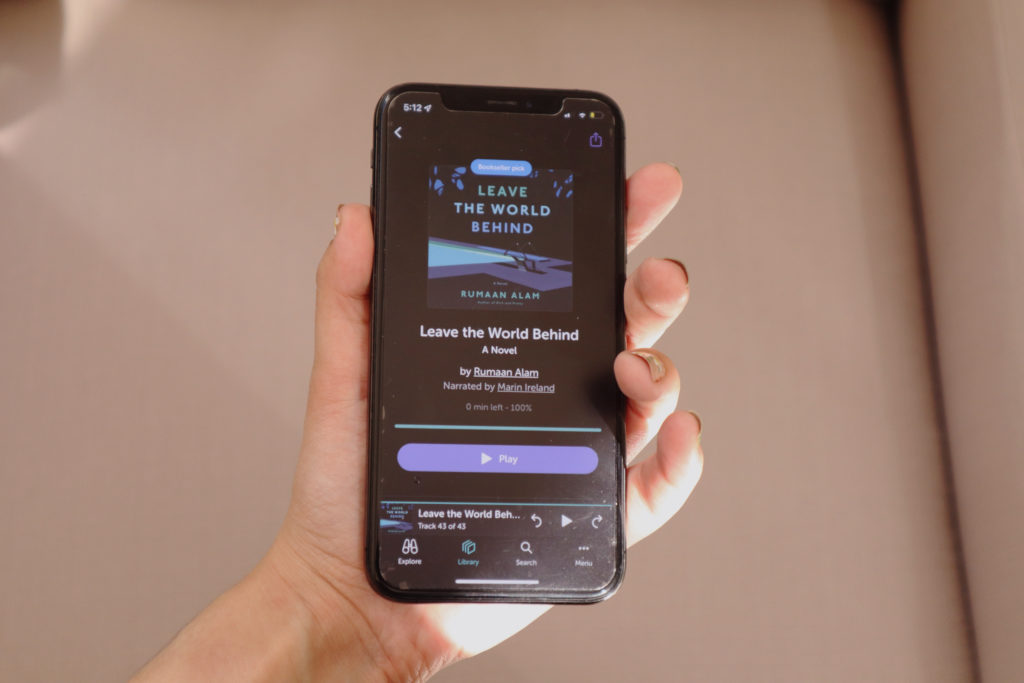 There is this quiet magnetism that keeps the story of our two families separated from the rest of the world, saving from the minutiae of what exactly goes on when the world ends save Alam's occasional omnipotent reference to moments outside the focus of the story. Even when Clay attempts to leave the house at one point, he finds himself lost and driving in circles. I think an end-of-the-world story is perfect for a literary telling, but too often it can slip into more of a sci-fi or dystopian tone, so this isolation worked well in my opinion.
I will warn you that the end does not wrap up neatly. I love that kind of thing, but if you don't like still having questions by the end of a story, maybe skip this one. Things left off perfectly for me — I'm not really sure that there could have been an end that would have satisfied me, so I sort of appreciate that Alam didn't force one. I would love to have a conversation about this with someone else, actually.
If there is any criticism to be had it is that the setup felt a little long. If I hadn't read the back cover and known what the book was about, I probably would have dozed a little. The anticipation of what was to come kept me going, and admittedly I think this lead-up might have been essential to understanding the dynamics of the family before things change too much. Leave the World Behind also had a smidge of that hypersexuality of Sally Rooney or Lisa Taddeo, which I'm personally not a fan of, but it didn't detract from the story for me so I'll let it slide.
I'm sad that this one slipped through the net for me — Leave the World Behind originally was published in 2020 and I don't think I heard too terribly much about it (understandable, I suppose). Thankfully though, it found its way out of the backlist for me, and I'd highly recommend you pick it up.
Love,
Leave the World Behind by Rumaan Alam was released October 6, 2020. Although Ecco Press and libro.fm provided me with a free review copy, this did not in any way affect my review.
CW: pornography, death or dying, kidnapping and other events that might be consider traumatic