This post may contain affiliate links, meaning that if you buy something, I might earn a small commission from that sale at no cost to you. As always, my links support indie bookstores. Read my full disclosure here. Thank you for your support.
Content warnings for Apples Never Fall provided at the bottom of this post, for those who would find them useful. You can find further details on content warnings here.
I've also written a review for Nine Perfect Strangers by Liane Moriarty.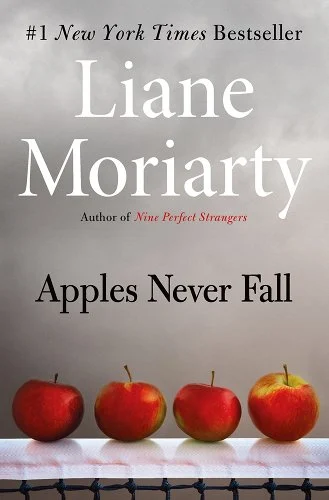 If your mother was missing, would you tell the police? Even if the most obvious suspect was your father? This is the dilemma facing the four grown Delaney siblings.

The Delaneys are fixtures in their community. The parents, Stan and Joy, are the envy of all of their friends. They're killers on the tennis court, and off it their chemistry is palpable. But after fifty years of marriage, they've finally sold their famed tennis academy and are ready to start what should be the golden years of their lives. So why are Stan and Joy so miserable?

The four Delaney children–Amy, Logan, Troy, and Brooke–were tennis stars in their own right, yet as their father will tell you, none of them had what it took to go all the way. But that's okay, now that they're all successful grown-ups and there is the wonderful possibility of grandchildren on the horizon.

One night a stranger named Savannah knocks on Stan and Joy's door, bleeding after a fight with her boyfriend. The Delaneys are more than happy to give her the small kindness she sorely needs. If only that was all she wanted.

Later, when Joy goes missing, and Savannah is nowhere to be found, the police question the one person who remains: Stan. But for someone who claims to be innocent, he, like many spouses, seems to have a lot to hide.

Two of the Delaney children think their father is innocent, two are not so sure–but as the two sides square off against each other in perhaps their biggest match ever, all of the Delaneys will start to reexamine their shared family history in a very new light.
Apples Never Fall was so overhyped by the bookclub scene that I really didn't have this on my TBR list. Another Mom drama, right? About a neighborhood struggling with mundane issues that entertain, but you'll forget about when the next one comes along. But boy was this another reminder to not judge a book by its cover (and to give mom bookclubs a bit more credit).
I like a good true crime podcast-esque story. (Check out my review of The Anatomy of Desire by L.R. Dorn if you do, too — these books actually are similar in that way.) So the missing mother situation really did pique my interest. The story unravels in a way that keeps you glued to the page, filled with both satisfying moments of knowing more than the characters do and twists you couldn't predict.
There were a million Oh, of course! moments in the last quarter or so of the book — Moriarty proved to be an expert when it comes to logic threading, and there are few abilities I admire more when it comes to storytelling.
One reason it reminded me so much of The Anatomy of Desire by L.R. Dorn is all the little vignette-like moments that make up the story. The reader gets much of their information from side characters — a waitress, a hairdresser. For a brief moment we are dipped into their world, and inevitably they have thoughts on the missing persons case in their town, but these little POV switches also feel realistic in that the Joy Delaney disappearance isn't the only thing taking up their mental space — sometimes it is only just an aside.
For example, one of our main side characters is a female police officer assigned to the case, and although she is obviously focused on her job, she also makes observations that are relevant to the story in a way only the reader recognizes.
The only part that felt a little unbelievable about Apples Never Fall was the amount of times phone conversations are overheard — so much sensitive information this publicly and loudly felt off. But honestly, I'll forgive it, because the result was just so darn good.
Want more Liane Moriarty? Check out my review of her other book, Nine Perfect Strangers, which was recently adapted by Hulu.
Alright, that's it for now! Chat later,
Apples Never Fall by Liane Moriarty was released September 14, 2021. Although Henry Holt & Co. and libro.fm provided me with a free review copy, this did not in any way affect my review.
CW: Mental illness, rape and sexual assault, abuse (physical, mental, emotional, verbal, sexual), child abuse, self-harm and eating disorders, death or dying, kidnapping and other events that might be considered traumatic, pregnancy/child birth