This post may contain affiliate links, meaning that if you buy something, I might earn a small commission from that sale at no cost to you. Read my full disclosure here.
Content warnings for Wahala provided at the bottom of this post, for those who would find them useful. You can find further details on content warnings here.
Ronke wants happily ever after and 2.2. kids. She's dating Kayode and wants him to be "the one" (perfect, like her dead father). Her friends think he's just another in a long line of dodgy Nigerian boyfriends.

Boo has everything Ronke wants–a kind husband, gorgeous child. But she's frustrated, unfulfilled, plagued by guilt, and desperate to remember who she used to be.

Simi is the golden one with the perfect lifestyle. No one knows she's crippled by impostor syndrome and tempted to pack it all in each time her boss mentions her "urban vibe." Her husband thinks they're trying for a baby. She's not.

When the high-flying, charismatic Isobel explodes into the group, it seems at first she's bringing out the best in each woman. (She gets Simi an interview in Shanghai! Goes jogging with Boo!) But the more Isobel intervenes, the more chaos she sows, and Ronke, Simi, and Boo's close friendship begins to crack.

A sharp, modern take on friendship, ambition, culture, and betrayal, Wahala (trouble) is an unforgettable novel from a brilliant new voice.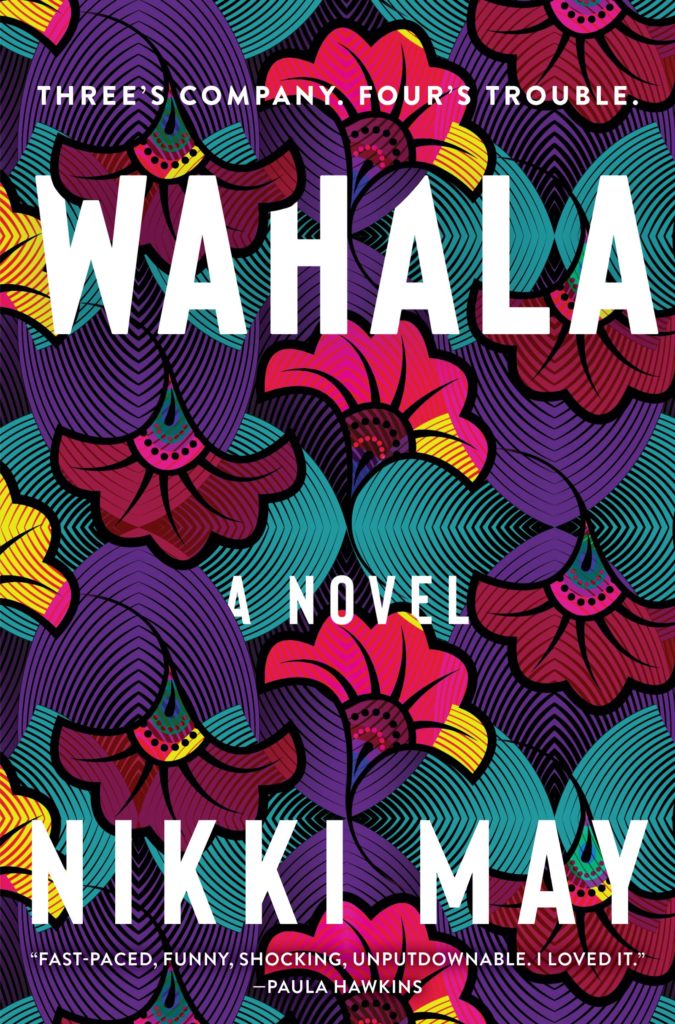 I've been a bit out of the loop when it comes to publishing recently. So I'm gonna be honest — I was attracted to this one first by the cover, then by the synopsis, then pleasantly surprised that everyone else seemed to already be on board. Built-in bookclubs, yay!
I am absolutely in love. I don't think I even have a valid critique of this book — it was that good. And I'm hard to please nowadays.
I've heard this one compared to Sex and the City recently, and I'm gonna be honest and admit I've never seen it. But I also can't imagine that is anywhere close to a comparison besides the fact that it has to do with a group of women and some wild drama.
Wahala certainly does have a trendy vibe to it. Women, all with their different lives and struggles, connected by their friendships — it reminded me of a number of titles, most of which I loved. Olive by Emma Gannon comes to mind, and it was one of my favorites of 2021. And — dare I say? — I was reminded a tad of Beautiful World, Where Are You (You can read my spoilery review of that one here), but I didn't enjoy that one so much, and I'm providing it purely for those who did and might find it a tempting comparison.
I did get a bit mixed up, as you tend to do when there are four distinct characters, but all of the storylines proved their worth throughout the story. Wahala is so well-crafted that when everything come together in the end in a way that feels perhaps a bit unbelievable, it is absolutely forgiven. The payoff is just that good.
I didn't want it to end, which is how I know it wrapped up in just the right place. So many of these books are fabulous but then wallow and overstay their welcome, and that is a huge pet peeve of mine. Wahala was so efficient, telling the story it wanted to tell and then leaving the reader with that wonderful (okay, terrible, but in the best way) book hangover we all like to talk about.
May clearly understands people very well. The relationships were so well done and manipulation so finely-tuned that I'm actually a bit in awe. Some of the subtle moves by characters are painfully accurate, and although you never quite know what is coming next (it is full of turns, trust me) it still feels like you are one of them, watching things go down and wanting to interject. Just perfect.
Pick up Wahala. I swear you'll be absolutely blown away.
Love,
Wahala by Nikki May was released January 11, 2022. Although Custom House and libro.fm provided me with a free review copy, this did not in any way affect my review.
CW: Mental illness, rape and sexual assault, excessive violence, abuse (physical, mental, emotional, verbal, sexual), child abuse, self-harm and eating disorders, death or dying, kidnapping and other events that might be considered traumatic, pregnancy/child birth