This post may contain affiliate links, meaning that if you buy something, I might earn a small commission from that sale at no cost to you. Read my full disclosure here.
Content warnings for The Wife Upstairs provided at the bottom of this post, for those who would find them useful. You can find further details on content warnings here.
The Wife Upstairs by Rachel Hawkins Summary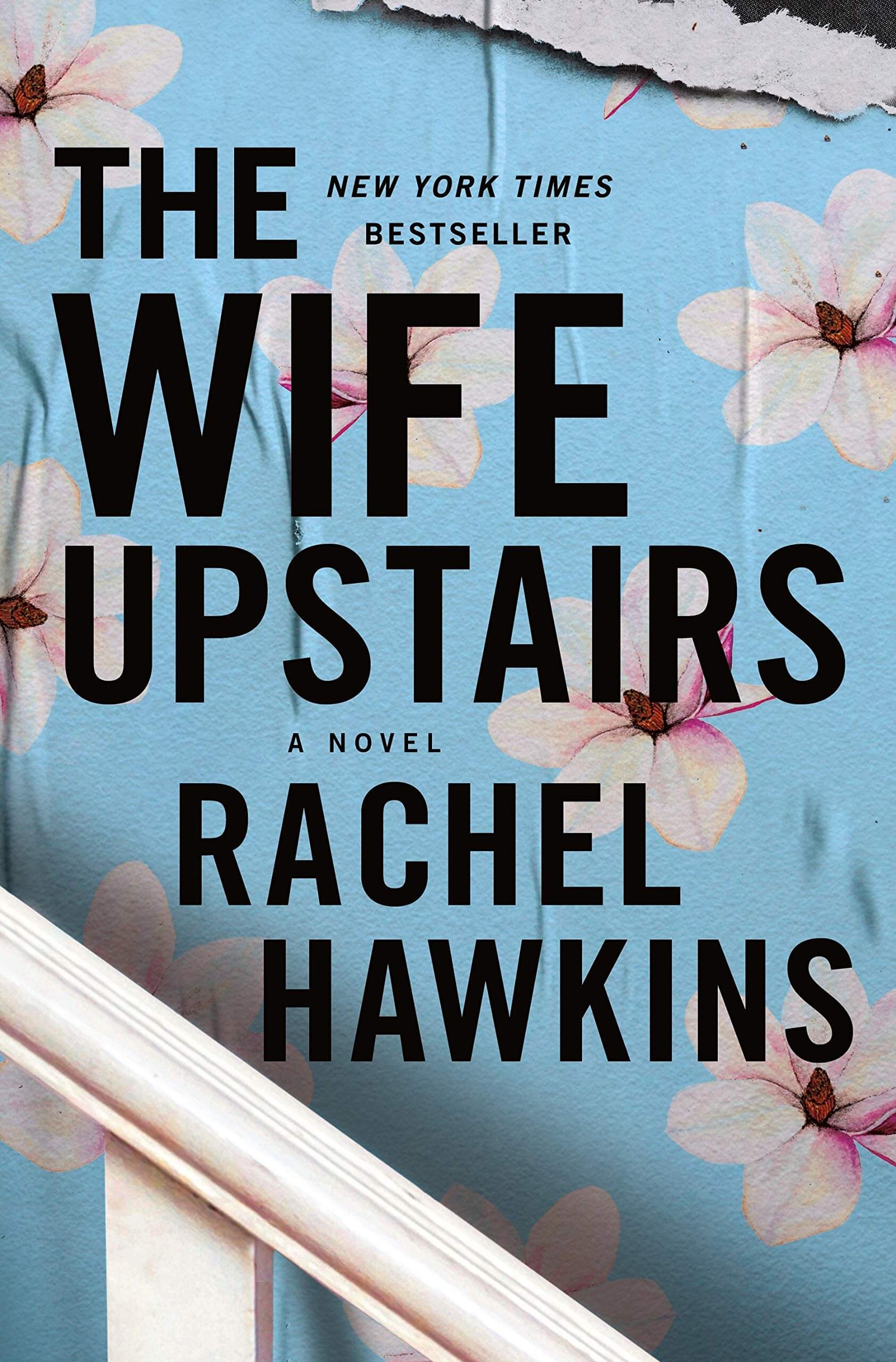 Meet Jane.

Newly arrived to Birmingham, Alabama, Jane is a broke dog-walker in Thornfield Estates–a gated community full of McMansions, shiny SUVs, and bored housewives. The kind of place where no one will notice if Jane lifts the discarded tchotchkes and jewelry off the side tables of her well-heeled clients. Where no one will think to ask if Jane is her real name.

But her luck changes when she meets Eddie Rochester. Recently widowed, Eddie is Thornfield Estates' most mysterious resident. His wife, Bea, drowned in a boating accident with her best friend, their bodies lost to the deep. Jane can't help but see an opportunity in Eddie–not only is he rich, brooding, and handsome, he could also offer her the kind of protection she's always yearned for.

Yet as Jane and Eddie fall for each other, Jane is increasingly haunted by the legend of Bea, an ambitious beauty with a rags-to-riches origin story, who launched a wildly successful southern lifestyle brand. How can she, plain Jane, ever measure up? And can she win Eddie's heart before her past–or his–catches up to her?

With delicious suspense, incisive wit, and a fresh, feminist sensibility, The Wife Upstairs flips the script on a timeless tale of forbidden romance, ill-advised attraction, and a wife who just won't stay buried. In this vivid reimagining of one of literature's most twisted love triangles, which Mrs. Rochester will get her happy ending?
My Review of The Wife Upstairs by rachel hawkins
I double-majored in English in college. A lot of people ask, "double-majored with what?", but no, that's literally it — I did 2 out of 3 majors offered by the English department. I say this purely because I know my next confession will likely discredit me as any sort of knowledgable literary person: I'm not here for Jane Austin.
I'm doubly not here for retellings, I won't lie (I think I might actually make a post on that sometime in the near future), so The Wife Upstairs was already off to a bit of a rocky start in my mind when I realized what was going on here. As with most of my reads nowadays, I had picked it up on recommendation of more than one bookstagram friend. And against all odds, I liked it.
I didn't even have to think when it came to coming up with a comparative title for  The Wife Upstairs,  because from the very first chapter my mind was on The Last Mrs. Parrish by Liv Constantine (you can read my buddy review of The Last Mrs. Parrish here). From the greedy-yet-relatable (and unreliable) main character to the rich guy who isn't who he seems, it's an instant recommendation.
Complex Characters
Hawkins was a wonder at showing the duality of her characters. The instant you decide who is right or wrong, she flips the narrative and shows a whole new perspective. I'd also like to take a moment and praise her depiction of female friendships and relationships. As a born-and-raised southerner I could completely feel the housewife vibes this neighborhood had going on.
I appreciated most, though, that alongside these descriptions Hawkins didn't necessarily vilify female characters for being "vain" or "air-headed." Yes, our MC came in with those assumptions, but I appreciated the moments in which Hawkins shows the other women of the wealthy neighborhood as multi-dimensional humans, and at some places, surprisingly kind. Hawkins doesn't attempt to clear society women from their faults, but does a wonderful job showing, well, a normal relationship between very different women.
On that note, though, I do have to say that I don't think I noticed any diversity in these characters. I understand that realistically speaking, a neighborhood like this does tend to be majority white. But as with nearly any book, there was absolutely room to create some non-cis/white characters. This seems to be a problem I've encountered fairly often in the women's thriller genre. Anyone else with more experience here have commentary?
A Jane Eyre Retelling
The one thing that held the story itself back in my mind was the author's attempt to rewrite Jane Eyre. Especially towards the end, things felt somewhat limited by how faithful Hawkins tried to stay to the original story. Also, as tends to be the biggest problem with retellings, I knew what to expect from the ending. This really influenced my overall reading experience.
Creating a homage to your favorite author or most influential story is alluring for writers — I get it. (You're looking at the girl who focused 4 whole years of NaNoWriMo on Peter Pan retellings. I don't tell you this lightly.) But if not for the names, I might not have been clued in that The Wife Upstairs was meant to be a Jane Eyre retelling at all, because the mad woman in the attic is in itself a trope.
Yes, the moniker comes from Jane Eyre's Bertha, a fact that most literature lovers will know, but it is now a common enough literary feature that you don't need to justify using it by bringing in the rest of the original Jane Austin work as well. The Wife Upstairs could have stood fine on its own without falling back on a classic that's been done a million times.
The ending really suffered from the limitations of a retelling, in my opinion — it ended far too abruptly for me. I suspect that this was loyalty to the original story, but I think she could have deviated a little more. Endings are notoriously the most difficult part to write, so I really can't blame Hawkins there.
I could go on for ages, but let's just save that for another time and leave things there. Because besides all my whining about classic retellings, I truly did enjoy this book — it was a trip and I totally recommend it, especially if you went wild for The Last Mrs. Parrish.
All the love,
The Wife Upstairs by Rachel Hawkins was released January 05, 2021. Although St. Martin's Press and libro.fm provided me with a free review copy, this did not in any way affect my review.
CW: Mental illness, excessive violence, abuse (physical, mental, emotional, verbal, sexual), death or dying, kidnapping and other events that might be considered traumatic