This post may contain affiliate links, meaning that if you buy something, I might earn a small commission from that sale at no cost to you. As always, my links support indie bookstores. Read my full disclosure here. Thank you for your support.
Hi there! I'm Grace and this is my weekly post on what book releases I'm excited for and why I'm intrigued by them. There are no hard and fast rules about what goes on this list as I'll pick up anything as long as it sparks an interest in me. We don't discriminate against different reading tastes here.
That being said, I do have my MA in English, but this list is not based on "literary value" (or whatever that means). The choices are based solely on what catches my eye. I am a one person machine, meaning I might miss out on some new releases–if you have a title you think is worth mentioning, do bring it up in the comments. Now, let's help you find your next read.
---
I missed last week because I needed a break (Thanksgiving might not happen here in the UK, but this American tends to go into hibernation mode anyways) and breaks are allowed. Taking care of and knowing how to pace yourself is the key to productivity. Even though I know you're reading this for the book releases, if this bit resonates with you, take this as your sign to slow down a little. It'll pay off in the long run.
Anyways, on to the main attraction!
Title: All the Broken Places
Author: John Boyne
Publisher: Pamela Dorman Books
Genre: literary fiction, historical fiction
Format: hardcover
Previous works: The Boy in the Striped Pajamas, The Heart's Invisible Furies, etc.
Ninety-one-year-old Gretel Fernsby has lived in the same well-to-do mansion block in London for decades. She lives a quiet, comfortable life, despite her deeply disturbing, dark past. She doesn't talk about her escape from Nazi Germany at age 12. She doesn't talk about the grim post-war years in France with her mother. Most of all, she doesn't talk about her father, who was the commandant of one of the Reich's most notorious extermination camps. 

Then, a new family moves into the apartment below her. In spite of herself, Gretel can't help but begin a friendship with the little boy, Henry, though his presence brings back memories she would rather forget. One night, she witnesses a disturbing, violent argument between Henry's beautiful mother and his arrogant father, one that threatens Gretel's hard-won, self-contained existence.

 All The Broken Places moves back and forth in time between Gretel's girlhood in Germany to present-day London as a woman whose life has been haunted by the past. Now, Gretel faces a similar crossroads to one she encountered long ago. Back then, she denied her own complicity, but now, faced with a chance to interrogate her guilt, grief and remorse, she can choose to save a young boy. If she does, she will be forced to reveal the secrets she has spent a lifetime protecting. This time, she can make a different choice than before–whatever the cost to herself….
I think John Boyne is an auto-buy author for a lot of people. For this one specifically, I'm reminded of Extremely Loud and Incredibly Close (even though that read is forever tainted by the Jonathan Safran Foer and Natalie Portman saga) and maybe some Anthony Doer or Matthew Quick. Are those ridiculous comparisons? I don't have anything to back them up.
Nevertheless, I love protagonists with dark pasts to be reckoned with.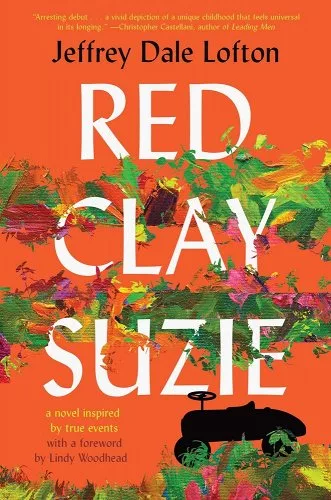 Title: Red Clay Suzie
Author: Jeffrey Dale Lofton
Publisher: Post Hill Press
Genre: Fiction
Format: hardcover
Debut
Fueled by tomato sandwiches and green milkshakes, and obsessed with cars, Philbet struggles with life and love as a gay boy in rural Georgia. He's happiest when helping Grandaddy dig potatoes from the vegetable garden that connects their houses.

But Philbet's world is shattered and his resilience shaken by events that crush his innocence and sense of security; expose his misshapen chest skillfully hidden behind shirts Mama makes at home; and convince him that he's not fit to be loved by Knox, the older boy he idolizes to distraction. Over time, Philbet finds refuge in unexpected places and inner strength in unexpected ways, leading to a resolution in the form of a letter from beyond the grave.
If you know anything about me, it's probably obvious why I'm drawn to this one. While I'm not a gay boy like Philbet, I did grow up as an outsider in south Georgia. I'm still convinced there's nothing as complex as trying to explain what growing up in the Deep South is like, and I'm eager to see how Red Clay Suzie navigates it.
Title: The Sorcerer of Pyongyang
Author: Marcel Theroux
Publisher: Atria Books
Genre: Literary fiction
Format: hardcover
Previous works: Far North
Ten-year-old Jun-su is a bright and obedient boy whose only desire is to be a credit to his family, his nation, and most importantly, his Dear Leader. However, when he discovers a copy of The Dungeon Master's Guide, left behind in a hotel room by a rare foreign visitor, a new and colorful world opens up to him. With the help of an English-speaking teacher, Jun-su deciphers the rules of the famous role-playing game and his imaginary adventures sweep him away from the harsh reality of a famine-stricken North Korea. Over time, the game leads Jun-su on a spellbinding and unexpected journey through the hidden layers of his country, toward precocious success, glory, love, betrayal, prison, a spell at the pinnacle of the North Korean elite, and an extraordinary kind of redemption.
Despite the title, this one is not fantasy, and I love it. Every book lover knows that feeling of escape well — it's likely what makes so many readers fall in love with reading in the first place. I'm also a sucker for magical realism, and The Sorcerer of Pyongyang seems like it will offer me that fix.
---
Also, a shoutout to Aesthetica by Allie Rowbottom and None of This Would Have Happened If Prince Were Alive by Carolyn Prusa, the two books that were supposed to be highlighted on last week's New Release post.
If you appreciate these posts, please consider giving me a follow/subscription/like/etc. on whatever platform you're reading this. It really helps out and I am deeply thankful for your support.
Love,