This post may contain affiliate links, meaning that if you buy something, I might earn a small commission from that sale at no cost to you. As always, my links support indie bookstores. Read my full disclosure here. Thank you for your support.
Beginning of the month means lots of new exciting reads! Let's dive in.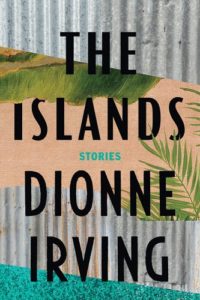 Title: The Islands
Author: Dionne Irving
Publisher: Catapult
Genre: Women's fiction
Format: paperback
Other works: Quint
The Islands follows the lives of Jamaican women–immigrants or the
descendants of immigrants–who have relocated all over the world to escape the ghosts of colonialism on what they call the Island. Set in the United States, Jamaica, and Europe, these international stories examine the lives of an uncertain and unsettled cast of characters. In one story, a woman and her husband impulsively leave San Francisco and move to Florida with wild dreams of American reinvention only to unearth the cracks in their marriage. In another, the only Jamaican mother–who is also a touring comedienne–at a prep school feels pressure to volunteer in the school's International Day. Meanwhile, in a third story, a travel writer finally connects with the mother who once abandoned her. Set in locations and times ranging from 1950s London to 1960s Panama to modern-day New Jersey, Dionne Irving reveals the intricacies of immigration and assimilation in this debut, establishing a new and unforgettable voice in Caribbean-American literature. Restless, displaced, and disconnected, these characters try to ground themselves–to grow where they find themselves planted–in a world in which the tension between what's said and unsaid can bend the soul.
Once again, I will acknowledge that I don't love historical fiction, yet there's more than one book that falls into that category on this list. I feel like I say that quite often, but I think it's good to keep an open mind. After all, some of my favorite books have been those I absolutely wouldn't have expected. The Islands immediately reminded me of Rainbow Milk with its multi-generational immigration story, and I learned a lot from that read.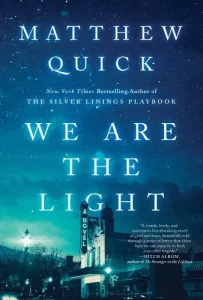 Title: We Are The Light
Author: Matthew Quick
Publisher: Avid Reader Press/Simon & Schuster
Genre: literary fiction
Format: hardcover
Previous works: The Silver Linings Playbook, The Reason You're Alive
Lucas Goodgame lives in Majestic, Pennsylvania, a quaint suburb that has been torn apart by a recent tragedy. Everyone in Majestic sees Lucas as a hero–everyone, that is, except Lucas himself. Insisting that his deceased wife, Darcy, visits him every night in the form of an angel, Lucas spends his time writing letters to his former Jungian analyst, Karl. It is only when Eli, an eighteen-year-old young man whom the community has ostracized, begins camping out in Lucas's backyard that an unlikely alliance takes shape and the two embark on a journey to heal their neighbors and, most importantly, themselves.
I've read one Matthew Quick book, and it isn't the one you think it is. Yes, I saw the Jennifer Lawrence and Bradley Cooper adaptation of The Silver Linings Playbook, but what really sold me on Matthew Quick was The Reason You're Alive, which I actually reviewed a couple of years back. He writes older characters fantastically, and with the poignancy that held onto me after I had finished the story, I think it's a fair bet that his next will smash it.
Title: The Cloisters
Author: Katy Hays
Publisher: Atria Books
Genre: thriller & suspense, supernatural
Format: hardcover
Debut
When Ann Stilwell arrives in New York City, she expects to spend her summer working as a curatorial associate at the Metropolitan Museum of Art. Instead, she finds herself assigned to The Cloisters, a gothic museum and garden renowned for its medieval art collection and its group of enigmatic researchers studying the history of divination. Desperate to escape her painful past, Ann is happy to indulge the researchers' more outlandish theories about the history of fortune telling. But what begins as academic curiosity quickly turns into obsession when Ann discovers a hidden 15th-century deck of tarot cards that might hold the key to predicting the future. When the dangerous game of power, seduction, and ambition at The Cloisters turns deadly, Ann becomes locked in a race for answers as the line between the arcane and the modern blurs.
It's a shame this one comes out a day past Halloween and not the week before, but I'm okay with it because my interest in The Cloisters goes beyond holiday sentimentality. We love a dark academia book, and I know, I know, what a trendy theme considering everyone's obsession with the likes of The Secret History (which I personally found subpar and not worth the hype), but books like Ninth House and The Temple House Vanishing have me hooked. Needless to say, I'm ready for the museums and tarot.
Title: Gilded Mountain
Author: Kate Manning
Publisher: Scribner
Genre: literary fiction, historical fiction
Format: hardcover
Previous works: My Notorious Life, Whitegirl
In a voice spiked with sly humor, Sylvie Pelletier recounts leaving her family's snowbound mountain cabin to work in a manor house for the Padgetts, owners of the marble-mining company that employs her father and dominates the town. Sharp-eyed Sylvie is awed by the luxury around her; fascinated by her employer, the charming "Countess" Inge, and confused by the erratic affections of Jasper, the bookish heir to the family fortune. Her fairy-tale ideas of romance take a dark turn when she realizes the Padgetts' lofty philosophical talk is at odds with the unfair labor practices that have enriched them. Their servants, the Gradys, formerly enslaved people, have long known this to be true and are making plans to form a utopian community on the Colorado prairie. Outside the manor walls, the town of Moonstone is roiling with discontent. A handsome union organizer, along with labor leader Mary Harris "Mother" Jones, is stirring up the quarry workers. The editor of the local newspaper–a bold woman who takes Sylvie on as an apprentice–is publishing unflattering accounts of the Padgett Company. Sylvie navigates vastly different worlds and struggles to find her way amid conflicting loyalties. When the harsh winter brings tragedy, Sylvie must choose between silence and revenge.
Another historical fiction, but don't you love the poor-girl-works-for-rich-family trope? I mean, I was definitely a little miffed at The Wife Upstairs for leaning too heavily on Jane Eyre, but it didn't stop me from enjoying the story. Also, the newspaper and publishing aspect is appealing to me for obvious reasons.
Title: Small Game
Author: Blair Braverman
Publisher: Ecco
Genre: literary fiction/thriller & suspense
Format: hardcover
Debut
Four strangers and six weeks: this is all that separates Mara from one life-changing payday. She was surprised when reality TV producers came knocking at Primal Instinct–the survival school where she teaches rich clients not to die during a night outdoors–and even more shocked to be cast in their new show, Civilization. Now she just has to live off the land with her fellow survivors for long enough to get the prize money.

Whisked by helicopter to an undisclosed location, Mara meets her teammates: The grizzled outdoorsman. The Eagle Scout. The white-collar professional. And Ashley, the beautiful but inexperienced one who just wants to be famous. Mara's unusual, rugged childhood has prepared her for the discomforts and hard work ahead. But trusting her fellow survivors? Not part of Mara's skill set.

When the cast wakes one morning to find something has gone horribly wrong, fear ripples through the group. Are the producers giving them an extra challenge? Or are they wrapped up in something more dangerous? Soon Mara and the others face terrifying decisions as "survival" becomes more than a game.
This feels like another guilty pleasure read — although I don't really believe in the guilty pleasure read, but I think it conveys my expectations. I especially loved The Anatomy of Desire, which focused a lot on social media with a true crime twist, and I'm excited to see what happens with a reality TV show.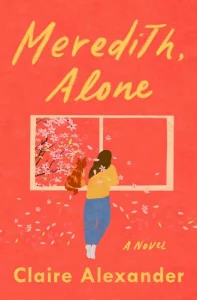 Title: Meredith, Alone
Author: Claire Alexander
Publisher: Grand Central Publishing
Genre: fiction, women's fiction
Format: hardcover
Debut
She has a full-time remote job and her rescue cat Fred. Her best friend Sadie visits with her two children. There's her online support group, her jigsaw puzzles and favorite recipes, her beloved Emily Dickinson poems. Also keeping her company are treacherous memories of an unstable childhood and a traumatic event that had sent her reeling.

But something's about to change. First, two new friends burst into her life. Then her long-estranged sister gets in touch. Suddenly her carefully curated home is no longer a space to hide. Whether Meredith likes it or not, the world is coming to her door…
It's been too long since I read a fun female-crisis-esque book. I'm getting Eleanor Oliphant is Completely Fine and The Switch vibes.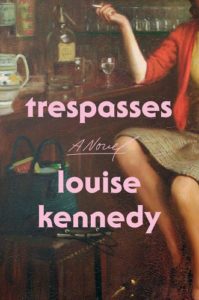 Title: Trespasses
Author: Louise Kennedy
Publisher: Riverhead Books
Genre: historical fiction
Format: hardcover
Previous works: The End of the World Is a Cul de Sac (Short Stories)
Amid daily reports of violence, Cushla lives a quiet life with her mother in a small town near Belfast. By day she teaches at a parochial school; at night she fills in at her family's pub. There she meets Michael Agnew, a barrister who's made a name for himself defending IRA members. Against her better judgment – Michael is not only Protestant but older, and married – Cushla lets herself get drawn in by him and his sophisticated world, and an affair ignites. Then the father of a student is savagely beaten, setting in motion a chain reaction that will threaten everything, and everyone, Cushla most wants to protect.
Yet another historical fiction. I've really gone wild this week. As an American living in the UK, I think I need a little brushing up with the history over here, and I'm hoping this will be somewhat informative.
Title: Strega
Author: Johanne Lykke Holm (translated by Saskia Vogel)
Publisher: Riverhead Books
Genre: literary fiction, gothic & horror
Format: hardcover
Debut
With toiletries, hairbands, and notebooks in her bag, and at her mother's instruction, a nineteen-year-old girl leaves her parents' home and the seaside town she grew up in. Out the train window, Rafa sees the lit-up mountains and perfect trees–and the Olympic Hotel waiting for her perched above the small village of Strega. There, she and eight other girls receive the stiff black uniforms of seasonal workers and move into their shared dorm. But while they toil constantly to perform their role and prepare the hotel for guests, none arrive. Instead, they contort themselves daily to the expectations of their strict, matronly bosses without clear purpose and, in their spare moments, escape to the herb garden, confide in each other, and quickly find solace together. Finally, the hotel is filled with people for a wild and raucous party, only for one of the girls to disappear. What follows are deeper revelations about the myths we teach young women, what we raise them to expect from the world, and whether a gentler, more beautiful life is possible.
A translation! I love seeing books make it into the English market, and doubly fascinated with the art of translation (thanks to my background in both English and Latin, I find language incredibly interesting), so I will definitely be keeping an eye out for this one. Beyond it being a translated work, the plot looks like great fun.
---
Quite a few to choose from this week! Don't you just feel overwhelmed in the best possible way when there are too many books you want to read? I feel like I can't blaze through them fast enough.