This post may contain affiliate links, meaning that if you buy something, I might earn a small commission from that sale at no cost to you. As always, my links support indie bookstores. Read my full disclosure here. Thank you for your support.
Content warnings for Our Missing Hearts provided at the bottom of this post, for those who would find them useful. You can find further details on content warnings here.
---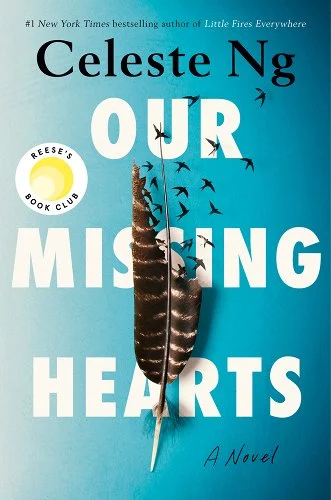 Twelve-year-old Bird Gardner lives a quiet existence with his loving but broken father, a former linguist who now shelves books in a university library. Bird knows to not ask too many questions, stand out too much, or stray too far.

For a decade, their lives have been governed by laws written to preserve "American culture" in the wake of years of economic instability and violence. To keep the peace and restore prosperity, the authorities are now allowed to relocate children of dissidents, especially those of Asian origin, and libraries have been forced to remove books seen as unpatriotic–including the work of Bird's mother, Margaret, a Chinese American poet who left the family when he was nine years old.

Bird has grown up disavowing his mother and her poems; he doesn't know her work or what happened to her, and he knows he shouldn't wonder. But when he receives a mysterious letter containing only a cryptic drawing, he is pulled into a quest to find her. His journey will take him back to the many folktales she poured into his head as a child, through the ranks of an underground network of librarians, into the lives of the children who have been taken, and finally to New York City, where a new act of defiance may be the beginning of much-needed change.
I liked Celeste Ng before I read Our Missing Hearts. I liked her in the sense that I knew she was a competent and talented writer and I remembered enjoying Little Fires Everywhere, but not much else stuck with me. That isn't the case with Our Missing Hearts. This story is going to be in my mind for a long time to come.
Perhaps I would be better equipped to make this distinction if I actually remembered more about her previous work, but I think Our Missing Hearts might be her best yet.
I was reminded of another recent favorite, Leave the World Behind, in that although this book is set in the near future, Ng focuses more on the similarities to our world than she does the differences. In other words, she gets straight to the human bit and doesn't give us the whole the-government-in-the-future-is-different-and-more-tyrannical-than-right-now-and-it's-bad spiel that we get from every single almost-dystopian story.
My single gripe is that having a character named The Duchess only served to remind me of My Dad Wrote A Porno every time she was mentioned. But I think that says more about me than Ng, and I don't hold it against her.
This might sound odd, but did anyone else have One Book One School assignments? Well, I did–both in high school and college. I would seriously recommend this book as a good option. It's timely and compelling, with minimal language or questionable content.
Love,
Our Missing Hearts by Celeste Ng was released October 4, 2022. Although Penguin Press and libro.fm provided me with a free review copy, this did not in any way affect my review.
CW: Mental illness, rape and sexual assault, excessive violence, abuse (physical, mental, emotional, verbal, sexual), death or dying, kidnapping and other events that might be consider traumatic, miscarriages/abortion