This post may contain affiliate links, meaning that if you buy something, I might earn a small commission from that sale at no cost to you. As always, my links support indie bookstores. Read my full disclosure here. Thank you for your support.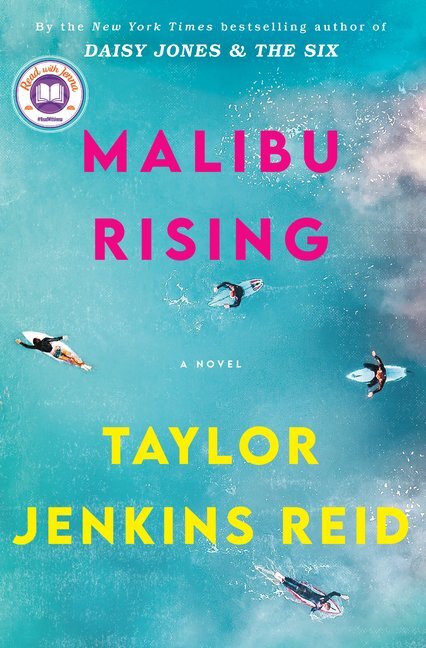 Malibu Rising by Taylor Jenkins Reid Summary
Malibu: August 1983. It's the day of Nina Riva's annual end-of-summer party, and anticipation is at a fever pitch. Everyone wants to be around the famous Rivas: Nina, the talented surfer and supermodel; brothers Jay and Hud, one a championship surfer, the other a renowned photographer; and their adored baby sister, Kit. Together the siblings are a source of fascination in Malibu and the world over—especially as the offspring of the legendary singer Mick Riva.

The only person not looking forward to the party of the year is Nina herself, who never wanted to be the center of attention, and who has also just been very publicly abandoned by her pro tennis player husband. Oh, and maybe Hud—because it is long past time for him to confess something to the brother from whom he's been inseparable since birth.

Jay, on the other hand, is counting the minutes until nightfall, when the girl he can't stop thinking about promised she'll be there.

And Kit has a couple secrets of her own—including a guest she invited without consulting anyone.

By midnight the party will be completely out of control. By morning, the Riva mansion will have gone up in flames. But before that first spark in the early hours before dawn, the alcohol will flow, the music will play, and the loves and secrets that shaped this family's generations will all come rising to the surface.

Malibu Rising is a story about one unforgettable night in the life of a family: the night they each have to choose what they will keep from the people who made them . . . and what they will leave behind.
Malibu Rising by Taylor Jenkins Reid Review
Like everyone else, I absolutely loved Daisy Jones and the Six and The Seven Husbands of Evelyn Hugo, so I was pumped to read Malibu Rising. Reid is just so fabulous at writing luxury and fame and still making her characters seem human and compelling. I wasn't disappointed, and can see why Malibu Rising is the title of the summer.
Reid's newest book follows the five children of rockstar Mick Riva, who we learn about in a series of flashbacks that take place in the span of a couple of days. As usual, Reid manages to explain their entire lives and complexities in vignette-like scenes from differing points of view. All of this culminates in a Gatsby-like party that sees many revelations come to light. Throughout we see the repetition of generational trauma and how it can change a family. I think I would say that Malibu Rising finds its place somewhere between Daisy Jones and the Six and something like Little Fires Everywhere.
I finished this book as part of a buddy read (you can see one of our former reviews here) and though we had differing opinions and realizations we both agreed that we enjoyed the book.
The most common criticism I've heard from some readers online is that there are too many superfluous characters, but I think that's the beauty of Jenkins's work. She's a genius at being able to show multiple sides of a story — so much so that you almost get an objective viewpoint of the events. No, we didn't get to know all of the characters as well as we might have wanted to but the very fact that we wanted more from each of them speaks to how interesting and well-rounded they were in their brief moments of visibility.
In my opinion it's the kind of writing that, while difficult to execute well, is quite true to real life – in our real lives, especially at a party setting like this, you only get glimpses of people, and certainly don't get to know them entirely. I think this is one of the reasons that Daisy Jones and the Six was also so successful. We got several points of view, the difference being that it was in an interview-like format. I think perhaps in critiquing the number of characters in the brief glimpse we get, the reader might be missing the point. Each character is very purposeful on Reid's part, and all contribute to the complex mosaic that is this book.
While this book is a little quieter than Daisy Jones or Evelyn Hugo, I think those fans will enjoy Reid's newest book just as much. Definitely recommend!
Love,
Malibu Rising by Taylor Jenkins Reid was released June 1, 2021. Although Ballantine Books and libro.fm provided me with a free review copy, this did not in any way affect my review.