This post may contain affiliate links, meaning that if you buy something, I might earn a small commission from that sale at no cost to you. As always, my links support indie bookstores. Read my full disclosure here. Thank you for your support.
Just three books on the list this week, but I'm absolutely thrilled by each.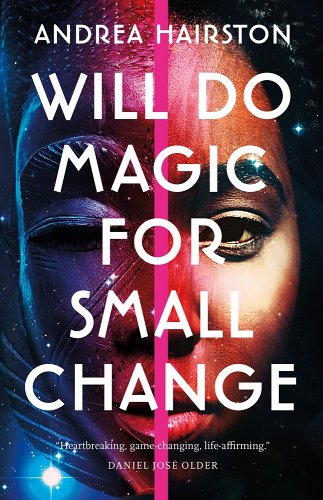 Title: Will Do Magic for Small Change
Author: Andrea Hairston
Publisher: Tordotcom
Genre: fantasy
Format: hardcover
Previous works: Redwood and Wildfire, Mindscape
Cinnamon Jones dreams of stepping on stage and acting her heart out like her famous grandparents, Redwood and Wildfire. But she's always been theatrically challenged. That won't necessarily stop her! But her family life is a tangle of mysteries and secrets, and nobody is telling her the whole truth.

Before her brother died, he gave Cinnamon The Chronicles of the Great Wanderer—a tale of a Dahomean warrior woman and an alien from another dimension who perform at the 1893 Chicago World's Fair. They are a story of magic or alien science, but the connection to Cinnamon's past is unmistakable.

When an act of violence wounds her family, Cinnamon and her theatre squad determine to solve the mysteries and bring her worlds crashing together.
In a world where titles are increasingly drab and formulaic, this one manages to stand out and although you shouldn't judge a book by its cover, I often do. This is a historical fantasy, which isn't entirely evident from the blurb, but it sounds like a read that will step out of the typical genre.
Also of note: Hairston's previous book, Redwood and Wildfire, seems to exist within the same world, but I am not convinced it is a prerequisite to reading this one. Feel free to correct if I'm wrong.
Title: I Miss You, I Hate This
Author: Sara Saedi
Publisher: Poppy/Little, Brown
Genre: YA fiction
Format: hardcover
Previous works: Americanized: Rebel Without A Green Card, the Never Ever series
The lives of high school seniors Parisa Naficy and Gabriela Gonzales couldn't be more different. Parisa, an earnest and privileged Iranian American, struggles to live up to her own impossible standards. Gabriela, a cynical Mexican American, has all the confidence Parisa lacks but none of the financial stability. She can't help but envy Parisa's posh lifestyle whenever she hears her two moms argue about money.

Despite their differences, as soon as they met on the first day of freshman year, they had an "us versus the world" mentality. Whatever the future had in store for them—the pressure to get good grades, the litany of family dramas, and the heartbreak of unrequited love—they faced it together. Until a global pandemic forces everyone into lockdown. Suddenly senior year doesn't look anything like they hoped it would. And as the whole world is tested during this time of crisis, their friendship will be, too.
I love this, I can't wait for this. (See what I did there?) You know, I've been a bit wary of the Pandemic Book, because of the inevitable influx of them over the past few months, but I want to read this Prince-and-Pauper-esque high school story. Seeing it compared to Becky Albertalli's Kate in Waiting has me doubly eager, though I'm personally expecting a more lighthearted and present-day version of Mafi's A Very Large Expanse of Sea.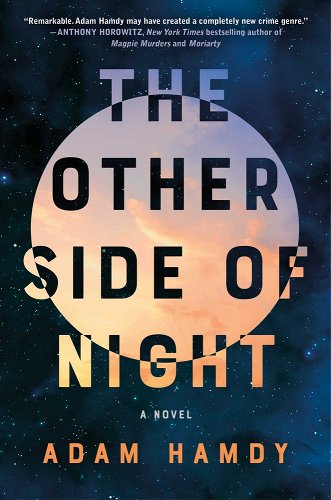 Title: The Other Side of Night
Author: Adam Hamdy
Publisher: Atria Books
Genre: Literary fiction, thriller/crime, psychological
Format: hardcover
Previous works: Black 13, Red Wolves, Pendulum, Freefall
The Other Side of Night begins with a man named David Asha writing about his biggest regret: his sudden separation from his son, Elliot. In his grief, David tells a story.

Next, we step into the life of Harriet Kealty, a police officer trying to clear her name after a lapse of judgment. She discovers a curious inscription in a secondhand book—a plea: Help me, he's trying to kill me. Who wrote this note? Who is "he"?

This note leads Harri to David Asha, who was last seen stepping off a cliff. Police suspect he couldn't cope after his wife's sudden death. Still, why would this man jump and leave behind his young son? Quickly, Harri's attention zeroes in on a person she knows all too well.

Ben Elmys: once the love of her life. A surrogate father to Elliot Asha and trusted friend to the Ashas.

Ben may also be a murderer. 
This summary is chaotic yet intriguing. I had only heard of Adam Hamdy in relation to James Patterson, who he has co-authored books with, and was intrigued to see him strike out on his own. (I was mistaken on that count, actually, because he has several books published under his own name — Sorry, Adam.) Either way, I'm hoping The Other Side of Night satisfies my craving for a smart thriller.
It's a short list, but that's okay with me because I think each of these titles deserves a spotlight on New Release Tuesday. If you pick one (or all three?) up, let me know what you think!
If you do decide to purchase one of the books I suggest, please consider doing so through the links on this page. I know Amazon might have it cheaper, but if you use my link, you are properly supporting the publishing industry by making sure everyone gets paid for their hard work. Bookshop.org in particular supports independent bookshops, and as their affiliate, I also receive a small portion of the proceeds. Your support is much appreciated.
As always,