This post may contain affiliate links, meaning that if you buy something, I might earn a small commission from that sale at no cost to you. As always, my links support indie bookstores. Read my full disclosure here. Thank you for your support.
This week is the most exciting of October in terms of new book releases, with half a dozen being on my personal list. One of my favorite authors has a title out tomorrow–read on to find out who it is.
Title: Signal Fires
Author: Dani Shapiro
Publisher: Knopf
Genre: literary fiction
Format: hardcover
Previous works: Inheritance, Hourglass, Slow Motion
Signal Fires opens on a summer night in 1985. Three teenagers have been drinking. One of them gets behind the wheel of a car, and, in an instant, everything on Division Street changes. Each of their lives, and that of Ben Wilf, a young doctor who arrives on the scene, is shattered. For the Wilf family, the circumstances of that fatal accident will become the deepest kind of secret, one so dangerous it can never be spoken.

On Division Street, time has moved on. When the Shenkmans arrive—a young couple expecting a baby boy—it is as if the accident never happened. But when Waldo, the Shenkmans' brilliant, lonely son who marvels at the beauty of the world and has a native ability to find connections in everything, befriends Dr. Wilf, now retired and struggling with his wife's decline, past events come hurtling back in ways no one could ever have foreseen.

In Dani Shapiro's first work of fiction in fifteen years, she returns to the form that launched her career, with a riveting, deeply felt novel that examines the ties that bind families together—and the secrets that can break them apart. Signal Fires is a work of haunting beauty by a masterly storyteller.
I adore long-kept secrets in a hometown kinda novel.
Title: Liberation Day
Author: George Saunders
Publisher: Random House
Genre: Literary fiction
Format: hardcover
Previous works: Lincoln in the Bardo, Tenth of December
The "best short-story writer in English" (Time) is back with a masterful collection that explores ideas of power, ethics, and justice and cuts to the very heart of what it means to live in community with our fellow humans. With his trademark prose—wickedly funny, unsentimental, and exquisitely tuned—Saunders continues to challenge and surprise: Here is a collection of prismatic, resonant stories that encompass joy and despair, oppression and revolution, bizarre fantasy and brutal reality.

"Love Letter" is a tender missive from grandfather to grandson, in the midst of a dystopian political situation in the (not too distant, all too believable) future, that reminds us of our obligations to our ideals, ourselves, and one another. "Ghoul" is set in a Hell-themed section of an underground amusement park in Colorado and follows the exploits of a lonely, morally complex character named Brian, who comes to question everything he takes for granted about his reality. In "Mother's Day," two women who loved the same man come to an existential reckoning in the middle of a hailstorm. In "Elliott Spencer," our eighty-nine-year-old protagonist finds himself brainwashed, his memory "scraped"—a victim of a scheme in which poor, vulnerable people are reprogrammed and deployed as political protesters. And "My House"—in a mere seven pages—comes to terms with the haunting nature of unfulfilled dreams and the inevitability of decay.

Together, these nine subversive, profound, and essential stories coalesce into a case for viewing the world with the same generosity and clear-eyed attention Saunders does, even in the most absurd of circumstances.
George Saunders is one of my few auto-buy authors. (In case you're unfamiliar with the literary community term, it means I snap up any new work by him, no questions asked.) Lincoln in the Bardo is an all-time favorite of mine–in fact, it was my first-ever review. (I call it an "avant-garde Hamilton" and was entirely too modest about my feelings regarding it, but we grow and learn.)
Title: Poster Girl
Author: Veronica Roth
Publisher: William Morrow Books
Genre: Science fiction/dystopian
Format: hardcover
Previous works: Divergent
Sonya Kantor knows this slogan—she lived by it for most of her life. For decades, everyone in the Seattle-Portland megalopolis lived under it, as well as constant surveillance in the form of the Insight, an ocular implant that tracked every word and every action, rewarding or punishing by a rigid moral code set forth by the Delegation.

Then there was a revolution. The Delegation fell. Its most valuable members were locked in the Aperture, a prison on the outskirts of the city. And everyone else, now free from the Insight's monitoring, went on with their lives.

Sonya, former poster girl for the Delegation, has been imprisoned for ten years when an old enemy comes to her with a deal: find a missing girl who was stolen from her parents by the old regime, and earn her freedom. The path Sonya takes to find the child will lead her through an unfamiliar, crooked post-Delegation world where she finds herself digging deeper into the past—and her family's dark secrets—than she ever wanted to.
I'm a little wary of a two-time dystopian world builder, I must admit. I mean only so many common nouns can become Proper Nouns, amirite? The literary critic in me worries that this will be a bit too like Divergent.
But–Divergent was amazing. Go ahead, turn your nose up, but that trilogy had us all reeling. If this is like Divergent, the guilty reader in me is perfectly fine with that.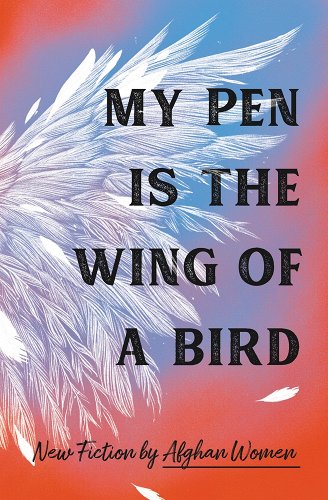 Title: My Pen is the Wing of a Bird
Author: 18 Afghan Women
Publisher: Grand Central Publishing
Genre: fiction/short stories
Format: hardcover

"My pen is the wing of a bird; it will tell you those thoughts we are not allowed to think, those dreams we are not allowed to dream."

Eighteen Afghan women living in, speaking about, and writing from the country itself tell stories that are powerful and illuminating, unique and universal – stories of family, work, childhood, friendship, war, gender identity, and cultural traditions.

A woman's fortitude saves her village from disaster. A teenager explores their identity in a moment of quiet. A tormented girl tries to find love through a horrific act. A headmaster makes his way to work, treading the fine line between life and death.

These and more original, vital, and unexpected stories hail from extraordinary voices rooted in Afghanistan's two main linguistic groups (Pashto and Dari), and were developed over two years through the writer development program Untold's Write Aghanistan Project. My Pen Is the Wing of a Bird comes at a pivotal moment in Afghanistan's history, when these voices must be heard.
A collection of women with one thing in common sharing their different stories and voices. I have a feeling this one will get a lot of discussion.
Title: The Family Game
Author: Catherine Steadman
Publisher: Ballantine Books
Genre: Suspense/thriller, Women's fiction
Format: hardcover
Previous works: The Disappearing Act, Mr. Nobody, Something in the Water
Harriet Reed, a novelist on the brink of literary stardom, is newly engaged to Edward Holbeck, the heir of an extremely powerful family. And even though Edward has long tried to severe ties with them, news of the couple's marital bliss has the Holbecks inching back into their lives.

As Harriet is drawn into their lavish world, the family seems perfectly welcoming. So when Edward's father, Robert, hands Harriet a tape of a book he's been working on, she is desperate to listen.

But as she presses play, it's clear that this isn't just a novel. It's a confession.

A confession to a grisly crime. A murder. And, suddenly, the game is in motion.

Feeling isolated and confused, Harriet must work out if this is part of a plan to test her loyalty. Or something far darker. What is it that Robert sees in her? Why give her the power to destroy everything?

This might be a game to the Holbeck family—but losing might still prove deadly.
Our weekly thriller!
Title: When We Were Sisters
Author: Fatimah Asghar
Publisher: One World
Genre: Fiction
Format: hardcover
Previous works: If They Come For Us
In this heartrending, lyrical debut work of fiction, Fatimah Asghar traces the intense bond of three orphaned siblings who, after their parents die, are left to raise one another. The youngest, Kausar, grapples with the incomprehensible loss of their parents as she also charts out her own understanding of gender; Aisha, the middle sister, spars with her "crybaby" younger sibling as she desperately tries to hold on to her sense of family in an impossible situation; and Noreen, the eldest, does her best in the role of sister-mother while also trying to create a life for herself, on her own terms.

As Kausar grows up, she must contend with the collision of her private and public worlds, and choose whether to remain in the life of love, sorrow, and codependency that she's known or carve out a new path for herself. When We Were Sisters tenderly examines the bonds and fractures of sisterhood, names the perils of being three Muslim American girls alone against the world, and ultimately illustrates how those who've lost everything might still make homes in one another.
This one's a debut novel-Asghar's first book was poetry. As someone with an interest in writing both poetry and prose, I love a poet-turned-novelist. (Remember my love of Lincoln in the Bardo?) I think they tend to stretch language in unique ways and produce gorgeous stories, but maybe I'm biased.
Right then, that's the weekly wrap-up. Did I miss any? Comment below!
As always,