Thought I would give a quick summary on what I've been reading this month. Here are all of my June 2018 reads!
Life on Mars by Tracy K. Smith
I typically don't do much reading of poetry outside of school, and even rarer is it that I read an entire collection.  However, as I personally have started to gravitate more towards poetry in my own work, I have recently been more intrigued.  If you're like me and looking to branch more into other genres, this would be a great starter.  The poem that first caught my eye was "Don't You Wonder Sometimes?" and rest assured that the other poems in this collection are just as gorgeous, tackling life, grief, and injustice against the backdrop of outer space and accompanied by a Bowie soundtrack.
You'll Grow Out of It by Jessi Klein
I'll confess, I had only heard of Jessi Klein because she is in the cast of Big Mouth, John Mulaney and Nick Kroll's Netflix show.  However, her talents clearly go beyond voice acting and screenwriting, because this was a great memoir, relatable especially if you are chasing a creative career.  Klein addresses everything from her youthful insecurities to her present-day struggles, exploring success and what it means to "make it."  If you are in college and chasing a dream (like I am), this is, in my opinion, a must-read.
 Carry On by Rainbow Rowel
I know I'm late to the game on this one, and it's possible that the enormous amount of good reviews I had heard hyped up Carry On a bit too much, but I had mixed feelings.  I could say a lot, and maybe I will do so in another review, but here I will try to keep it brief.  Regardless of the insistences that this was a homage to the "chosen one" story, I was hesitant throughout the first half because of how like Harry Potter this one felt.  I think that is it possible to pay respects to a classic series without all the similarities that Rowell had in this one.
The first few hundred pages was a lot of backstory, as if Rowell wanted to write the fifth or six book in the Harry Potter series without going to the trouble of doing the first ones.  However, I will admit that as I powered through it I became more intrigued in the storyline as it dipped away from what I expected.  Without too much spoiler, I also appreciated how LBGT-friendly this one was.  All-in-all, I think that had I not grown up with Harry Potter, I would have enjoyed this one a lot more.  Though there is a sequel coming out sometime in the next few years, I think I will be passing in favor for something else.
Lincoln in the Bardo by George Saunders
I thoroughly enjoyed Lincoln in the Bardo, and in short, would recommend it to anyone who is willing to work with a text.  Though it does have a bit of humor thrown in, this is not at all a light read, but if you are the literary type I believe it is well worth the time.  You can see my full review of Lincoln in the Bardo here.
Things You Should Already Know About Dating, You F*cking Idiot by Ben Schwartz and Laura Moses
 I loved Ben Schwartz in Parks & Recreation, and I was even more charmed by his recent Netflix film Anniversary, so of course when I saw his book on sale I grabbed it.  This is a short read (took me about an hour), more of a coffee table book, and while it did make me laugh a couple of times, there wasn't a lot more to it if you've already read something similar (think Aziz Ansari's Modern Romance lite).  Definitely a cute read, and really capitalizes on the title — good if you're looking for something short, relatable, and with pictures.
Exit West by Mohsin Hamid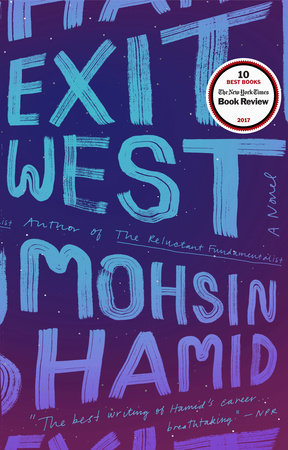 I was really looking forward to this one, and it did not disappoint.  Although it is often pitched as magical realism, I'm not sure if I would recommend it to someone looking primarily for that kind of story.  Instead, Exit West is set in what seems like a version of the very-near future with a war looming over the two main characters.
The premise is that magical doors have been popping up around the world, doors that can take you to another country in a matter of seconds, and refugees are using them to escape their war-torn homes.  The doors, however, are in the background, used mainly as a catalyst for the main story.  The focus is on the relationship between two people in an uncertain time, the pull of home on the individual, and finding peace where there isn't much.  This is certainly a beautiful read, and I think, a timely one.
Best,