State of the Goodreads Challenge 2020
First off — if you are my friend on Goodreads, you know I might be a liiiil sunk re: the 2020 book challenge. Oops! Not gonna lie though — I think I can still pull a win out of this one. (I also feel like I've read way more than 34 books, too, but okay.) Am I overconfident? Maybe. I'll let you know around Christmas.
No, a yearly book challenge shouldn't be determined by quantity; rather, aim for quality! So, although I am quite competitive, I'm not all that bothered by my slowness. Or at least I'm trying to not be.
For fun though, let's look at the numbers.
Finished: 34/100 books
To go: 66 books
What I would have to read to make my goal:
2nd Half of October: 11 books
November: 28 books
December: 27 books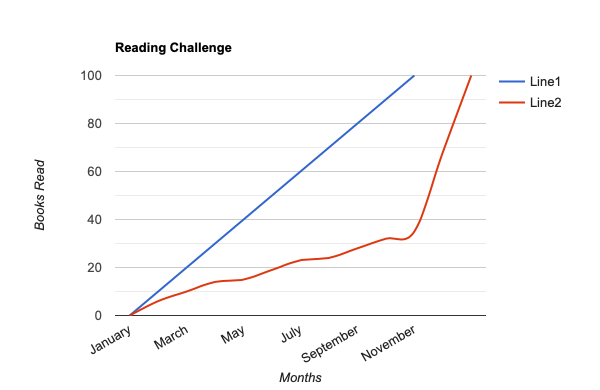 Yeah, so I wrote that first bit before I actually did the math. Okay. It's fine!!! Shoot for the moon, right?
I also made a little graph just to intimidate myself even further, and though it's a little off (math, amirite?), the giant gulf between where I am and where I should have been is roughly the same.
Anti-social reading
On a slightly tangential topic, I've stopped keeping Goodreads up to date with my reading, instead logging books in batches just for the sake of my reading challenge. Personally, I've never found their app very user-friendly or appealing, and rarely log onto the website. Plus, now Goodreads is owned by Amazon, and knowing that the whole purpose of the app is advertising, I'm just not that into it.
Instead of switching to another social reading app (although I've heard the StoryGraph is a new one worth checking out), I wanted to try a simpler way of logging books. And, wow, I don't think I've ever had an app fulfill exactly what I wanted for free, but Reading List has done it. It's all I've ever wanted in a book tracking app, and hasn't let me down yet.
I've easily found every book I wanted with the correct information already inputted, and you can organize your books if you like, or keep it simple if that is your preference. You can track reading progress both by page and percentage, and there is no limit to how many books you can log. I know I'm overly excited about this but I am just that hyped that someone has finally created the reading app of my dreams. So I think I'll be sticking with Reading List for a while.
Reading intentions for the rest of October
finish So Sad Today

finish Ninth House

read Cover Your Tracks

finish like 8 more books I guess?
Love,