The Circle by Dave Eggers Summary
This post may contain affiliate links, meaning that if you buy something, I might earn a small commission from that sale at no cost to you. Read my full disclosure here.
When Mae Holland is hired to work for the Circle, the world's most powerful internet company, she feels she's been given the opportunity of a lifetime.

The Circle, run out of a sprawling California campus, links users' personal emails, social media, banking, and purchasing with their universal operating system, resulting in one online identity and a new age of civility and transparency.

As Mae tours the open-plan office spaces, the towering glass dining facilities, the cozy dorms for those who spend nights at work, she is thrilled with the company's modernity and activity.

There are parties that last through the night, there are famous musicians playing on the lawn, there are athletic activities and clubs and brunches, and even an aquarium of rare fish retrieved from the Marianas Trench by the CEO.

Mae can't believe her luck, her great fortune to work for the most influential company in the world–even as life beyond the campus grows distant, even as a strange encounter with a colleague leaves her shaken, even as her role at the Circle becomes increasingly public.

What begins as the captivating story of one woman's ambition and idealism soon becomes a heart-racing novel of suspense, raising questions about memory, history, privacy, democracy, and the limits of human knowledge.
The Circle by Dave Eggers Review
So I just finished watching the movie, because even though people had warned me away from it, I saw Emma Watson and couldn't help myself.  She was the only redeeming part, so this is me warning you: Don't watch the movie, y'all.  Just don't.  The book version of The Circle is far better and very worth your time.
Ironically, seeing the trailer in theaters was the first time I had even heard of The Circle, which prompted me looking it up and realizing it was a book first.  Then, as usually happens, I noticed that a bunch of my favorite book people had brought it up in the past and loved it, so I jumped on board (late, per usual), and I'm so glad I did.
 The Circle by Dave Eggers was one of the most gripping books I've read in a bit.  This might be kind of unusual for a reader, but I don't have the best attention span.  Typically a book of this length will take me a bit of time, but I breezed through it in a couple of sittings.
The one thing that threw me was that this book doesn't have chapters, and, as I mentioned, I'm pretty distractible, so not having a super-easy way to gauge where I am in the book was a bit off-putting.
Eggers, though, does an amazing job of drawing you in.  If you're familiar with my TV references, the book starts off very Silicon Valley, but quickly turns into Black Mirror.  In other words, the tech drew me in, but then the sheer creepiness of the whole thing slipped up behind me and blocked the exit.
The story follows average twenty-something Mae after her college roommate helps her get a job at one of the hottest companies in the world, the Circle.  Soon, what started off as a beginner's job in customer service (or "Customer Experience," as the Circlers call it), turns into very public role, one filled with unseen dangers, lots of shiny new tech, and eventually, possibilities such as the "perfect democracy."
While a lot of it, admittedly, might seem far-fetched, there is the perfect amount of humanity injected into the story.  Take, for instance, Mae's family: her father, struggling with a recent MS diagnosis, and her mother, left to battle the insurance companies alone.  There is also Mercer, an ex-boyfriend and family friend who is wary of the Circle from the start.
I think one of the biggest complaints I heard about this one was that many people believed it to be predictable, and I'll give you that in some respects. The Circle really doesn't contain anything you don't already know about tech, social media, and monopolies, and gives you what you expect. However, I think that's the point.
While Eggers is pointing out the dangers here, he is also showing just how easy it is to slip into them, all the positives, all the arguments that can box someone into a corner, into believing that they are helping humanity. It is easy (and this might be a mild spoiler) to watch Mae fall into the deep end of this whole thing, and that is the scary part, that is what kept me so interested in reading this book.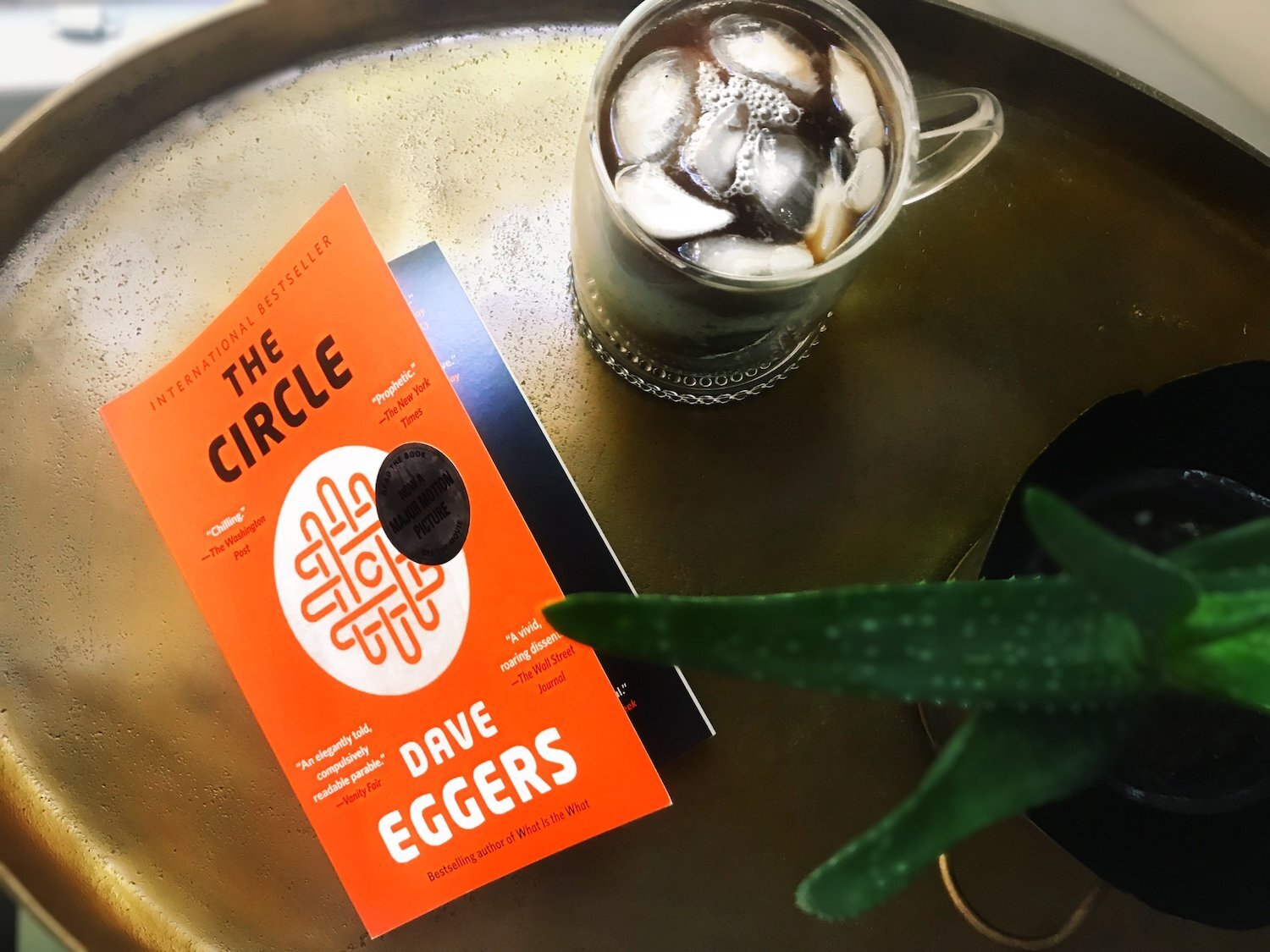 All-in-all, I would say this isn't one to be missed (as I so obviously did a couple years back).  If you are a geek for cool tech, like I am, it is a must, and you'll surely be caught up just in all the free stuff Mae gets.
If you're looking for a slightly shorter book by Dave Eggers, check out my review of his novella The Captain and the Glory. Once again, Dave Eggers proves to be one of the most clever writers around.
(Update 2022: Since this review, Dave Eggers has published a sequel to The Circle called The Every, which tells the story of a woman going to work for the company born of a merger with The Circle. I, for one, am dying for a chance to read this. I wrote this post over four years ago and have since converted to being a big Dave Eggers fan.)
     See y'all soon,