Well, this month flew. I can't tell if that's a good or bad thing anymore.
Whatever. Anyways, here's a list of things I liked a whole bunch despite this dumpster fire of a month!
The myth of clean beauty.
Lucy Moon first made me think about this in her empties video (which is also worth a watch), which references Caroline Hirons' assertion that "clean beauty" is a myth meant to create fear and drive the makeup industry. My personal requirements for my makeup/skin products is that they be both vegan and cruelty-free — phrases like "clean" and "all-natural" are thrown in there so often that I have never really thought about it, assuming some sort of connection, I suppose. While the idea that someone is in a field picking different plants to grind up into a formula or whatever is appealing, romancing the idea is doing nothing but setting unreachable standards — as Caroline points out, true "clean" beauty would go bad as soon as it left the refrigerator.
Though not a perfect comparison, it somewhat reminds me of the fear we have of processed foods — the whole unpackaged, "pure" food is a phase I went through when I was a baby vegan just figuring things out. The truth is, everything is processed. Like anything else, there are certainly foods that are better for you than others, but that has nothing to do with them being "processed" or not.
Anyways, there's a whole article here that I found helpful, and it definitely does a better job of delving into this topic than I could here.
A fresh start for fall clothes.
Over the past couple of years I've tried to avoid buying new clothes unless it is absolutely necessary. I suppose I've taken the capsule wardrobe approach, except my way is not nearly as attractive or well-planned. So, while being at home, I've been sorting through the things I didn't bring along with me to school. Turns out, if you let a couple of years go by, clothing that you haven't worn in a while can seem brand new. There have also been some pieces that I have loved but didn't make the college cut. I'm so excited to wear them again.
The Multi-Hyphen Life by Emma Gannon.
Yes, it's a book on a list of things that is supposed to be non-bookish, but wow did it make me think. As an artist, The Multi-Hyphen Life made so many things click for me, and I expect it to be a work I return to in years to come.
In fact, I listened to this on audio (thank you, libro.fm), but I might just have to snag a physical copy so I can mark it up. I do still highly recommend the audio though — Emma herself reads it and I tore through it while doing housework.
Honestly, I would recommend this to anyone in their twenties — even if you wouldn't classify yourself as an artist or creator, it has a lot of valuable thoughts on the evolution of the job market.
A small note: I believe this book came out in the U.K. a bit ago with a different title.
Just go look. Gorgeous site and content, no?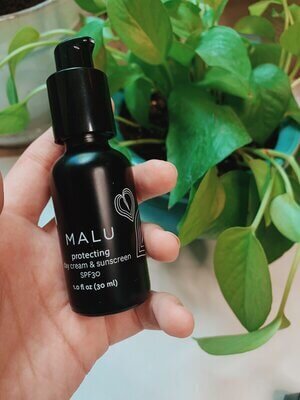 I'll be honest — I probably wouldn't have bought this for myself, but soley because shes's a little on the pricier side. Lucky for me, my mom subscribes to Cause Box (who included it in a recent box) and let me steal this.
This formula is vegan, cruelty-free, and Honua (the brand) is dedicated to using ethical and sustainable sources in their products. Those are the words we like to hear. It wears well under makeup and is moisturizing without that oily feel.
Dave Cullen (Columbine, Parkland) did an incredible job with this one. Rarely nowadays do I read a piece involving politics and come out of it feeling hopeful, but this feature did it. It's a long read, but worth your time. I learned a lot that I didn't know I didn't know — I promise you'll get something from this article, even if it's just the story of a remarkable woman. It's important.
Yep, that's it for now! Curious to know what's on your September favorites list!
Love,
Everything mentioned is linked — though know that I might receive a small commission if you purchase anything through them.