This post may contain affiliate links, meaning that if you buy something, I might earn a small commission from that sale at no cost to you. As always, my links support indie bookstores. Read my full disclosure here. Thank you for your support.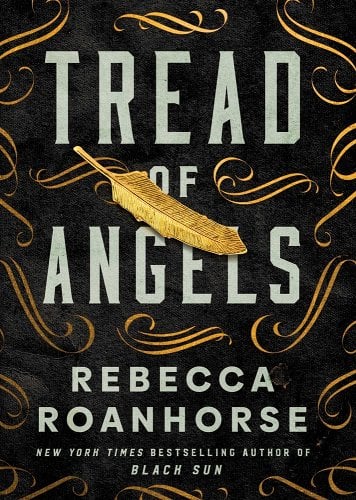 Title: Tread of Angels
Author: Rebecca Roanhorse
Publisher: Gallery/Saga Press
Genre: historical fantasy
Format: hardcover
Previous works: Black Sun
The year is 1883 and the mining town of Goetia is booming as prospectors from near and far come to mine the powerful new element Divinity from the high mountains of Colorado with the help of the pariahs of society known as the Fallen. The Fallen are the descendants of demonkind living amongst the Virtues, the winners in an ancient war, with the descendants of both sides choosing to live alongside Abaddon's mountain in this tale of the mythological West from the bestselling mastermind Rebecca Roanhorse.
My notes originally autocorrected "angels" to "angles" and I thought, surely not. I was correct, and Tread of Angels is, in fact, the right title — and a beautiful one at that.
This story returns to the fascination we have with angels & demons and biblical myths — a trend I thought we had abandoned with the popularity of the Shadowhunter series and books like Fallen, but I guess not. I'm definitely intrigued to see what happens with this concept when placed in an adult historical fantasy.
Title: Dragonfly Summer
Author: J. H. Moncrieff
Publisher: Flame Tree Press
Genre: Suspense & thriller
Format: hardcover
Previous works: City of Ghosts
Moncrieff's new book is rich in narrative and empathy […] This is an exceptional story that really trends a fine line balance between two worlds of small town life and action paced thriller that is really a hard thing to balance but she does this as a pro. – Literary License Podcast Dragonfly Summer is a gripping thriller that asks: What happens when the past comes back to haunt you? Jo Carter never thought she'd return to Clear Springs, Minnesota. But when the former journalist receives a cryptic note about the disappearance of her friend Sam twenty years before, she's compelled to find out what really happened. During her investigation, she learns another high school friend has died in a mysterious accident. Nothing is as it seems, and Jo must probe Clear Springs' darkest corners and her own painful and unreliable memories to discover the truth – and save herself from the killer who could still be on the hunt. Deliciously twisty and suspenseful from the first minute to the last, Dragonfly Summer proves that no small town's secrets can stay buried for good.
The cover on this one doesn't look so much like a cover as it does an ad (we need to abandon the exclamation mark here, I think), but I love a twisty small town mystery — doesn't everyone?
---
As always, let me know if any of these recommendations lead to your next read!
Love,